By Chris Chase
Welcome to the latest in our series of "old versus new" used vehicle reviews, in which we compare the reliability of older and newer versions of popular vehicles.
This time around, we're looking at a trio of German models: BMW's X1 subcompact luxury SUV, the Volkswagen Jetta economy car, and the Audi Q5 compact luxury SUV.
2015 BMW X1 (first generation) versus 2016 BMW X1 (second generation)
Introduced to North America in 2012, the BMW X1 was the brand's first subcompact SUV model. The first-generation model shared a platform with the popular 3 Series compact sedan, while a second-gen version arrived in 2016 on a new chassis that also underpinned the Mini Countryman.
Earlier models offered a choice of turbocharged four- or six-cylinder power, but the newer generation was sold exclusively with a turbo four-cylinder.
2015 BMW X1 test drive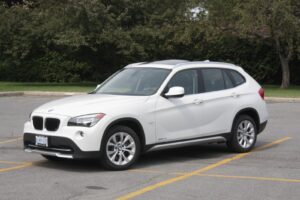 If you hear a high-pitched whine or grinding/scrubbing sounds or feel vibrations when test-driving a 2015 model, the car may have a faulty AWD transfer case. It's a relatively rare issue, but an expensive one to fix out of warranty.
Also, pay attention to shift quality from the automatic transmission. Poor performance could be linked to a known fault in the electro-mechanical controls for the transmission the X1 uses.
Both engines offered in the 2015 X1 use an electric water pump that can fail, leading the engine to overheat.
Also, watch for oil leaks from around the valve cover and oil filter housing, both of whose rubber gaskets are known to become brittle and crack as they age.
2016 BMW X1 test drive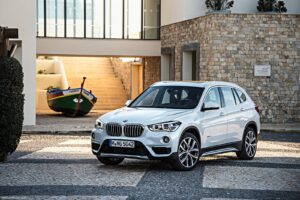 In second-generation X1 models, an unpleasant smell from the A/C vents is likely caused by mildew and other contaminants accumulating in the innards of the climate control system. The simplest fix could involve changing the cabin air filter. A more expensive option is having the HVAC system professionally cleaned by a BMW service centre.
In newer models, some owners complain about brake pads and rotors that have to be replaced more frequently than expected.
BMW offered a power tailgate on the X1 that some owners say occasionally opens and closes on its own. This could be caused by an overly sensitive kick-operated hands-free sensor. When testing a 2016 X1 with an electric tailgate, open and close it several times to make sure it responds properly.
Other pre-purchase checks
Regardless of which generation X1 you choose, be on the lookout for cars whose previous owners have had aftermarket performance-enhancing software installed in the engine's electronic controls. This is a popular modification in turbocharged vehicles, but it can shorten the service life of the drivetrain and will almost certainly void any remaining warranty coverage.
Both generations of X1 use BMW's iDrive infotainment system. Spend some time using it (with the car parked) to ensure it works without freezing or randomly rebooting. Many iDrive performance issues can be fixed with updated software installed by a BMW service centre.
The verdict: Newer is better
The original X1 was part of BMW's early experiments with achieving more fuel-efficient performance from turbocharged engines. By the time the second-generation X1 arrived, BMW had worked out many of those kinks, making the 2016 model the better choice.
2015 Volkswagen Jetta versus 2016 Volkswagen Jetta
We're doing something a little different in evaluating used versions of the Volkswagen Jetta compact sedan. Both the 2015 and 2016 models belong to the car's sixth generation, which VW sold from 2011 through 2018, but the years we're looking at represent the before and after of a significant update.
In 2015, the Jetta's engine offerings began with a 2.0L four-cylinder engine that dated back to the early 1990s and generated a modest 115 hp. The upgrade was a 1.8L turbo four-cylinder with a more impressive 170-hp output. This was also the last year VW offered its TDI diesel in the Jetta; it was in late 2015 that the company's diesel emissions scandal came to light. (There was also a sporty Jetta GLI, but we're only looking at the Jetta's economy-minded variants here.)
In 2016, VW switched the Jetta's engine to a 1.4L turbo four-cylinder that split the difference, power-wise, with 150 hp and better fuel economy than either of the previous year's engines.
2015 Volkswagen Jetta test drive
Volkswagen recalled some 2015 Jetta models with the 1.8L engine to make an engine adjustment meant to reduce the likelihood of a camshaft problem that could leave the car without power brakes. It's unlikely that this recall affected a large number of cars, but we recommend you check whether the car you're test-driving was part of the recall.
Here's another 1.8L engine recall to prevent a potential fuel leak.
2016 Volkswagen Jetta test drive
Some owners complain of poor heater performance in cold winter weather. If you test-drive a Jetta with the 1.4L engine in winter, crank the heat to see whether you're satisfied with its output.
The Jetta's 2016 update also included a new infotainment system. At some point during your test drive, park the car and spend some time going through the system's touchscreen functions. Some owners report the system freezes and sometimes randomly reboots when using the Android Auto smartphone feature.
Other pre-purchase checks
Another cold-related check to make is that the wipers work properly. Among this generation Jetta's known issues are wipers that seize up and/or slow down in cold weather.
If you're testing a Jetta with a sunroof, open and close it a few times. Any grinding sounds could mean the mechanism needs to be lubricated. A sticky sunroof can cause a tiny (but relatively expensive) piece to break off that could render the sunroof inoperable.
Owners of both 2015 and 2016 Jettas complain of squeaks and rattles in the interior that develop as the car ages. Take a drive along a bumpy road during your test drive to see what sorts of sounds rough pavement brings out in the car you're testing.
Verdict: Newer is better
The newer and older versions of the Jetta share most of their known issues. A 2015 model with the ancient 2.0L engine will be slow and inefficient, considering its modest power, but it should be very reliable.
Still, we think the 2016 model's 1.4L engine is the better choice for its combination of better performance and economy. Choose carefully to end up with a dependable, trouble-free car.
2017 Audi Q5 (first generation) versus 2018 Audi Q5 (second generation)
Audi introduced the Q5 as its first-ever compact SUV in 2008. The first-generation model was a long-lived car that ran until 2017 with a mid-model update in 2012. In its final year, the first-gen Q5 came with either a 2.0L turbo four-cylinder engine or a supercharged 3.0L V6.
The second-gen car that debuted in 2018 looked different only in the details, but was comprehensively updated. An upgraded 2.0L turbo engine was the entry point, and a 3.0L turbo V6 powered the sportier SQ5.
2017 Audi Q5 test drive
Audi fitted some Q5 models with an engine start/stop system designed to save fuel by turning the engine off at stop lights. Some owners report that their cars sometimes do not restart, or do, but command the driver to put the car in park, turn the car off and restart it. During your test drive, make sure to bring the car to a complete stop several times to see how this feature behaves.
The Q5's earlier 2.0L engine has a number of well-known issues. By the time they got around to building the 2017 model, the company had worked most of these out, but one you should watch for is carbon build-up on the intake valves. It's a common issue with modern direct-injected engines that can cause various performance problems if not cleaned up at regular intervals.
2018 Audi Q5 test drive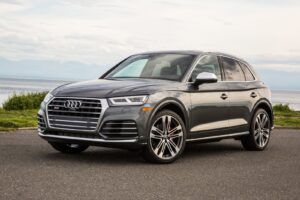 If you're considering a 2018 Audi Q5, test the HVAC system to make sure it does what you ask of it. Some owners report cars that blow lukewarm air at best, or only produce warm air when the car is moving. On a related note, some Q5 drivers wish for more warmth from the heated seats.
Another worthwhile check is that the infotainment system will connect with your smartphone either through Bluetooth or the Apple CarPlay system. That's one common complaint among Q5 owners; another is an infotainment system that freezes or randomly reboots.
Some second-gen Q5 owners say the power windows act up sometimes.
Finally, listen during your test drive for squeaks and rattles from the Q5's dashboard, seats and sunroof, all of which have generated complaints among owners.
The Verdict: Older is better
The newer Q5 offers a more high-tech cabin, but that new technology also adds the potential for frustration. Also, while the second-generation model is more powerful in its base form, there's no indication its engine is any less prone to carbon build-up than its predecessor. Our recommendation is to choose a 2017 model that passes a thorough mechanical inspection and plan to make regular intake valvetrain cleanings part of your maintenance schedule.