by Chris Chase
Perhaps you've heard it suggested that you should never buy a car in its first year after a major redesign. This common maxim seems counterintuitive: A new design should be more reliable, thanks to the ever-improving precision that goes into the manufacturing process.
It's not a universal truth, but it is common enough that a lot of people stand by the belief that a new design can bring new problems. When it does come true, our theory is that it can be blamed on technology that hasn't been subjected to real-world use, which is often a harsher test than what engineers can create in their labs.
While this concept typically only applies to new vehicles, it could also extend to the used-car marketplace. We've decided to test it by comparing the reliability of some of Canada's most popular vehicles before and after recent major redesigns.
Our first trio of vehicles includes the Honda Civic compact car, the Ford F-150 full-size pickup truck, and the Nissan Rogue compact SUV.
2015 Honda Civic (ninth generation) versus 2016 Honda Civic (10th generation)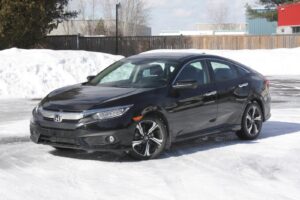 An uninspired ninth-generation Civic update in 2012 made many car shoppers wonder if Honda had given up on its normally trend-setting compact. But the company made up for it in 2016 with a 10th generation boasting standout styling, big-car refinement and optional turbo power.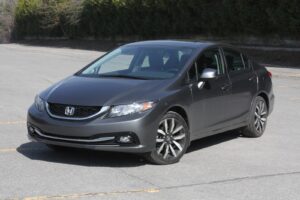 Here's how the specs stack up. The 2015 model used a 1.8L four-cylinder engine (143 hp/129 lb-ft of torque), which came with either a five-speed manual transmission or a continuously variable automatic (CVT). Si trim traded up to a 2.4L engine with 205 hp/174 lb-ft and a six-speed manual.
In the redesigned 2016 Civic, the base engine is a 2.0L with 158 hp/138 lb-ft. Honda offered buyers the choice between a six-speed manual gearbox and a CVT. Optional in 2016 was a 1.5L turbo four-cylinder boasting 174 hp/162 lb-ft that came exclusively with a CVT for the car's first year on the market.
2016 Honda Civic test drive
Early versions of that turbocharged engine had some uncharacteristic quality issues. Among the most common complaints were fuel leaking into the crankcase and diluting the engine oil (http://www.hondaproblems.com/oil-dilution/) and poor heater performance in cold weather.
The issues are apparently related. Honda suggests the engine is so efficient that it doesn't generate enough surplus heat to satisfy drivers' needs in winter weather. And because the engine runs cooler, it can't burn off excess fuel vapour, which condenses and leaks past the pistons and into the oil.
Other frequent complaints involve the air conditioning compressor and condenser (https://www.10thcivicforum.com/threads/air-conditioner-condenser.26841/). Condenser failures happen because this radiator-like component is vulnerable to being hit by road debris.
2015 Honda Civic test drive
The older 1.8L engine's most serious common complaint is excessive engine oil consumption, but it's inconclusive as to whether it's a widespread issue. Checking the oil level before you start the car for your test drive could reveal an engine using more oil than it should.
While test-driving, run the climate control fan through its full speed range. If you hear a buzzing noise, it's likely caused by a temperature control damper that's bent and is rubbing on the blower. (https://www.9thgencivic.com/threads/buzzing-noise-from-blower-motor-2015-honda-civic.128298/)
The verdict: Older is better
You could avoid some of the 10th-generation Civic's issues by choosing one with the standard 2.0L non-turbo engine. However, we'd suggest saving yourself some potential heartbreak and choosing a 2015 model instead. It's smaller and less powerful, but boasts the stronger reliability that is more typical of Honda.
2014 Ford F-150 (12th generation) versus 2015 Ford F-150 (13th generation)
We would argue the 2015 Ford F-150 – its 13th generation! – marked a turning point in full-size pickup design. While it didn't look radically different from its predecessor, the 2015 model's aluminum bodywork kicked off a race among its competitors to out-innovate one another.
The 2015 F-150 carried forward two engines from the 2014 model – a 5.0L V8 and a turbocharged 3.5L EcoBoost V6 – and added two new ones: a 3.5L non-turbo V6 (it replaced the 2014's 3.7L) and a 2.7L EcoBoost V6. All 2014 and 2015 F-150s used a six-speed automatic transmission.
2014 Ford F-150 test drive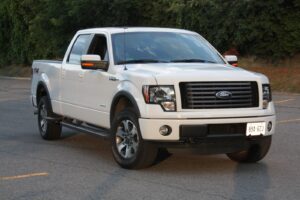 Listen for knocking or popping sounds from the front suspension or steering when driving on rough surfaces. (https://www.f150forum.com/f38/steering-wheel-popping-over-bumps-rough-terrain-94150/index5/) Some owners who hear this sound say it's worse in warm weather, and sometimes disappears completely in cooler conditions.
In both 2014 and 2015 models, pay attention to the transmission's performance. Rough shifting is a common complaint and can often be corrected with a software update for the transmission's electronic controls.
2015 Ford F-150 test drive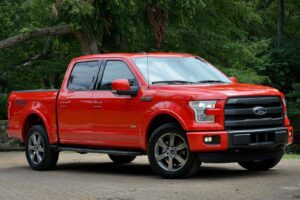 If you're looking at a 2015 model, inspect the carpets for wetness. Waterlogged floors are a common complaint, and are often the result of water leaks from the sunroof or rear window. There's also a drain for the air conditioning condenser that can become blocked and leak water into the front footwells. (https://www.f150forum.com/f118/ac-drain-wet-carpet-456789/)
Ford issued a 2015 service bulletin to address complaints of door locks and latches that could freeze in cold weather. If you test-drive a 2015 F-150 in winter, operate the keyless locks while the truck is still cold to make sure all the doors lock and unlock. (https://www.f150forum.com/f118/2015-frozen-door-latch-tsb-recall-402319/)
Some owners of 2015 models say their F-150's adaptive cruise control system has put on the brakes in response to shadows on the pavement caused by overpasses. Others have experienced what one driver calls "tanker truck syndrome," where the F-150 puts on the brakes when passing a large tanker transport while driving along a bend in the road. (https://www.f150forum.com/f118/adaptive-cruise-malfunctions-scary-299485/index2/) While this would be hard to replicate in a test drive, it's a good reminder to test the adaptive cruise system during your test drive.
If you're testing a 2015 truck with the optional ventilated front seats, make sure you can feel cool air moving through both the back and bottom cushions. (https://www.f150forum.com/f118/cooling-seats-issue-tsb-feedback-304154/)
The verdict: Newer is better
Because the redesigned 2015 F-150 used most of the same drivetrain bits as its predecessor, basic reliability between the two model years is quite consistent. A slim advantage goes to the newer truck because of its better fuel economy.
2013 Nissan Rogue (first generation) versus 2014 Nissan Rogue (second generation)
In 2014, Nissan redesigned its Rogue compact crossover, turning it from a curvy five-seater into a larger, more angular vehicle with optional three-row seating.
Both versions of the Rogue use a 2.5L four-cylinder engine (175 hp/170 lb-ft of torque) that comes with a continuously variable automatic transmission (CVT). Front-wheel drive was standard, but an optional all-wheel drive system was popular with those who bought the Rogue new.
2013 Nissan Rogue test drive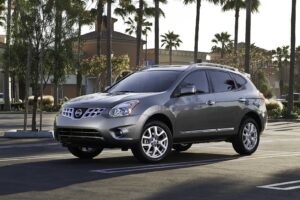 When test-driving a 2013 Rogue, listen for a rattling noise from the transmission. This common complaint among owners of first-gen models prompted Nissan to replace CVTs in some vehicles. (https://forums.nicoclub.com/cvt-rattle-noise-discussion-thread-t335131.html) However, there are few reports of actual transmission failures.
Transmission oil leaks are another frequently mentioned issue that a pre-purchase inspection will reveal if the Rogue you're testing is affected.
Try out the air conditioner during your test drive to make sure it blows cool air. If you're out in cool or cold weather, you can still test the A/C by setting the heater to defrost mode, which uses the air conditioner to defog the windows.
2014 Nissan Rogue test drive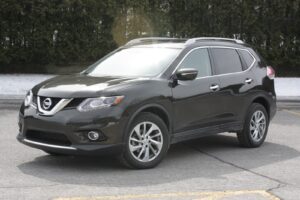 In the 2014 Nissan Rogue, water leaking onto the floor on the driver's side was common because of a faulty weld in the body. This should have been repaired in any affected cars, but check the carpets for wetness during your test drive, just in case.
Some owners of 2014 models complain of problems with the optional automatic air conditioning controls. If you're looking at a car with that feature, test the system thoroughly to make sure it does what you ask it to.
Transmission complaints seem to be more serious in the second-generation Rogue, including CVTs that slip, letting the engine rev without speeding up the car. However, serious CVT problems will be the exception and not the rule, at least in a well-maintained Rogue.
When driving a 2014 model with a panoramic sunroof, listen for creaks and rattles from the roof when it's closed. (https://forums.nicoclub.com/panoramic-roof-rattle-t592304.html)
The verdict: Older is better
This comparison is close to a draw. On balance, though, the second-generation 2014 Rogue seems to have generated more complaints than its predecessor, so we give the advantage to the 2013 model.