by Chris Chase
As we discussed in the first instalment in our High vs Low series, upscale automakers have injected a lot more variety into the marketplace in recent years. Much of that change has been driven by the addition of compact models aimed at first-time car buyers or shoppers looking for their first luxury vehicle.
For this High vs Low article, we're sticking with the compact SUV class to compare the Volkswagen Tiguan 4Motion with the Mercedes-Benz GLB. These two have a lot in common: They both come from German automakers and use 2.0L turbo engines, eight-speed transmissions, and all-wheel drive. They are also the only compact SUVs you can buy with three rows of seats, an option in both models.
Read on to learn how these two small utilities compare in terms of performance, value, and fuel economy, and which one we think is the best buy for your buck.
High: 2021 Mercedes-Benz GLB – $46,500-$57,500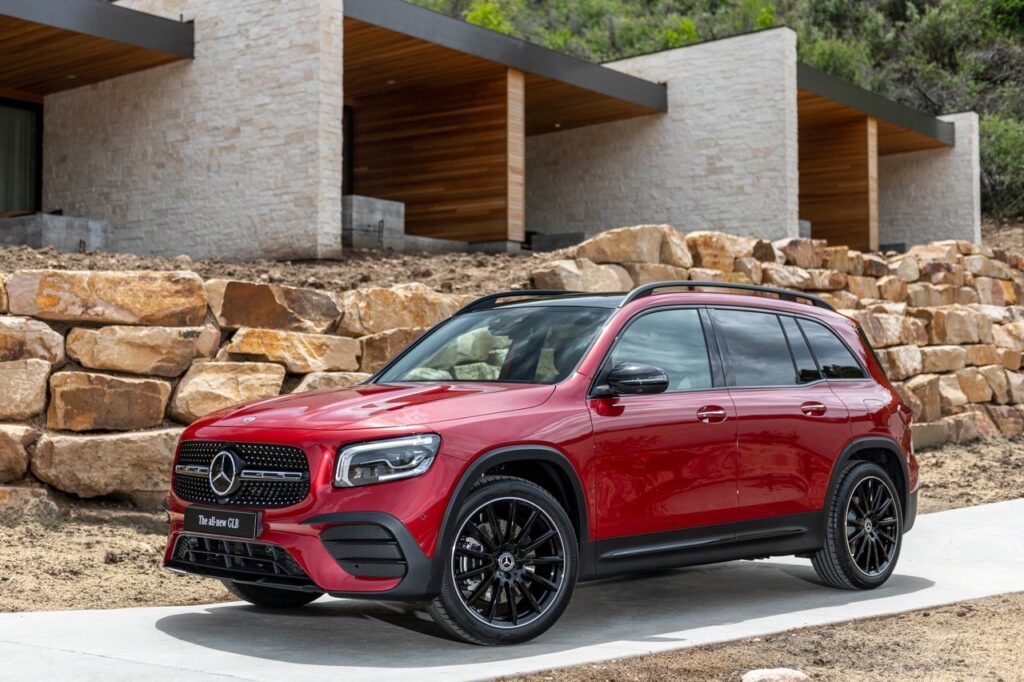 The GLB is a relatively new addition to the Mercedes-Benz stable, introduced in 2020 to bolster Benz's already wide range of utility models. As its name suggests, the GLB slots between the existing GLA and GLC models and is Mercedes' smallest model to offer third-row seats.
The GLB's lower price applies to the base GLB 250 model, while the higher MSRP is for the AMG GLB 35, a more powerful performance-oriented version.
Low: 2021 Volkswagen Tiguan 4Motion– $31,995*-$40,195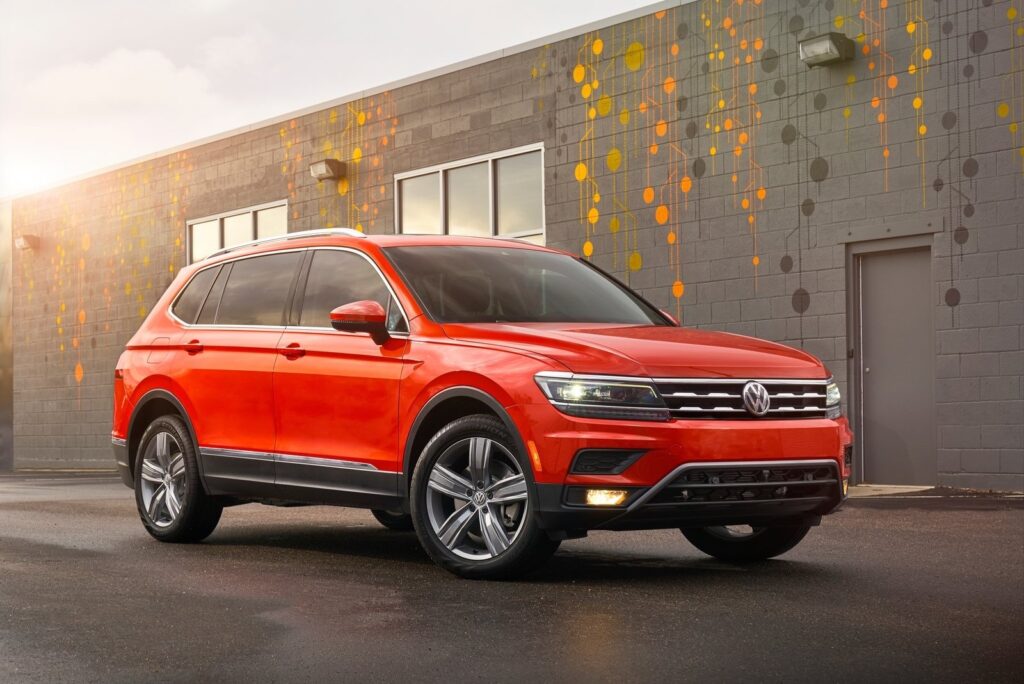 Volkswagen introduced the Tiguan in 2009 as a late entry in the compact crossover class established by models like the Honda CR-V, Toyota RAV4, and Ford Escape. The second-generation Tiguan arrived in 2018 with an all-new look wrapped around a larger interior that offers the option of three-row seating.
For a more accurate comparison, we're leaving out the most basic front-wheel drive Tiguan configuration because Mercedes-Benz Canada doesn't offer a front-drive GLB to compare it with. The base price we've listed for the VW is for the Trendline 4Motion, the least-expensive Tiguan with all-wheel drive.
Performance – Winner: Mercedes-Benz GLB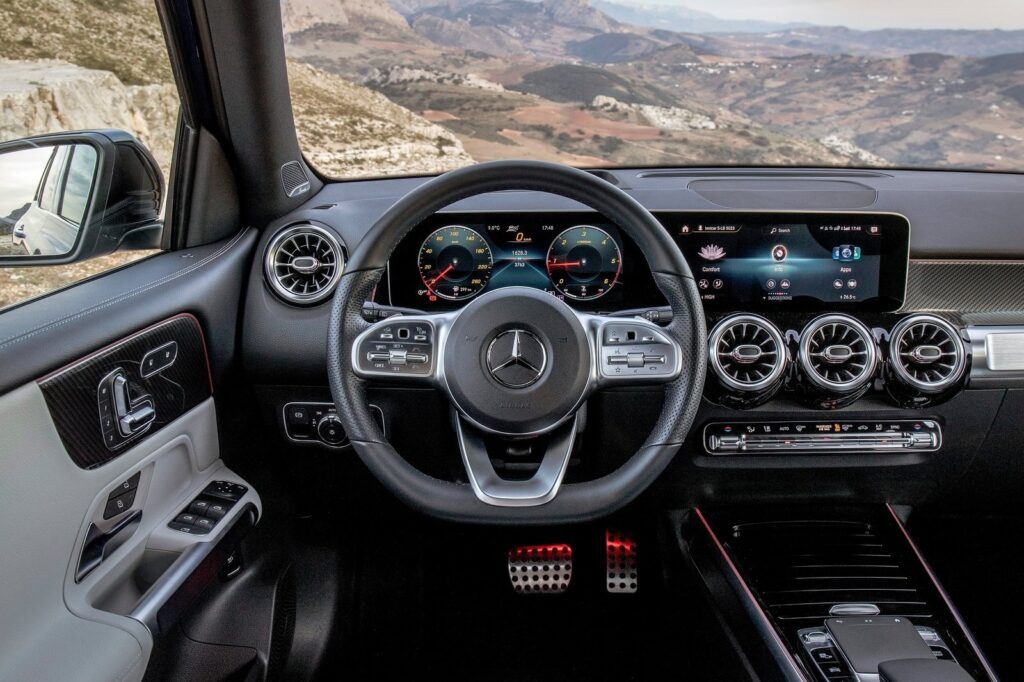 Both the VW Tiguan and the Mercedes-Benz GLB are powered by 2.0L four-cylinder turbocharged engines and eight-speed automatic transmissions. The Tiguan's powertrain makes 184 hp and 221 lb-ft of torque, while the entry-grade GLB 250 boasts 221 hp and 258 lb-ft. And if you move up to the AMG GLB 35, you get a more potent version of Benz's 2.0L with 302 hp/295 lb-ft.
According to Car and Driver, even the GLB's base engine gives that model a distinct performance advantage. It measured the GLB 250's 0-60 mph (0-96 km/h) acceleration at 6.0 seconds, while the Tiguan took 9.7 seconds to reach the same speed.
The Mercedes-AMG GLB 35 is even more impressive, pulling off a 5.1-second 0-60 mph sprint in Car and Driver's testing.
Fuel economy – Winner: Mercedes-Benz GLB
Mercedes-Benz's fuel consumption estimates for the GLB are 10.3/7.8 L/100 km (city/highway) for the base GLB 250 and 11.1/8.9 L/100 km for AMG GLB 35 models.
Meanwhile, the less-powerful VW Tiguan 4Motion is only nominally more efficient than the GLB 35, with ratings of 11.0/8.6 L/100 km.
We've given the GLB the nod here because it promises to use less fuel. However, it won't necessarily cost you less, because Mercedes requires pricey premium-grade gas for its 2.0L engine, while the Tiguan's runs on cheaper regular-grade fuel.
Safety – Winner: Volkswagen Tiguan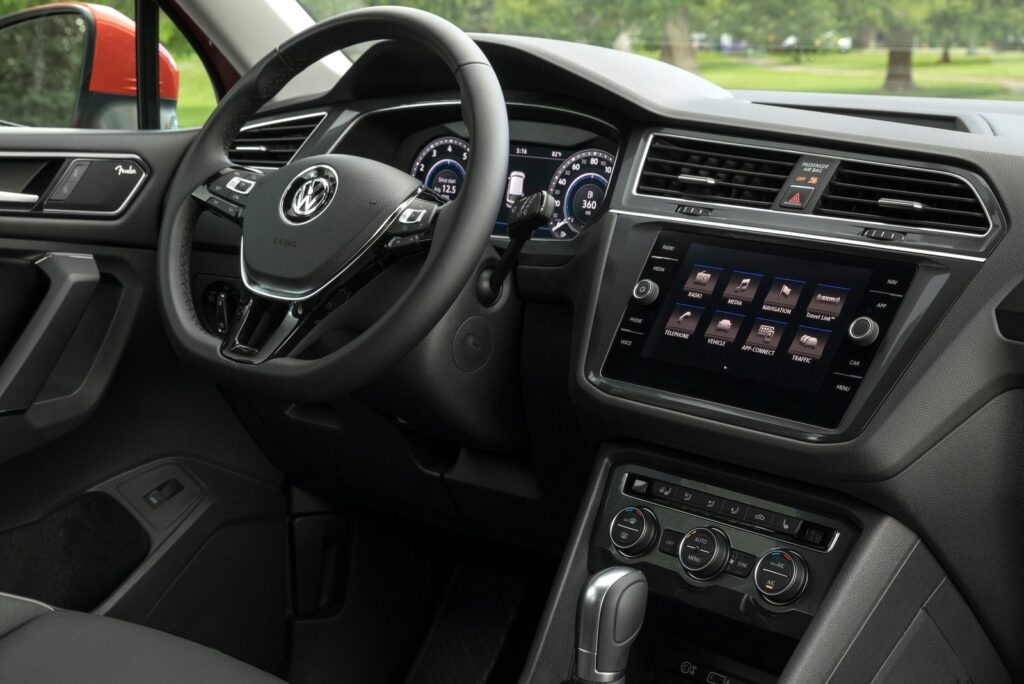 Every 2021 Volkswagen Tiguan comes with blind spot monitoring and rear cross-traffic alert. If you move up to the Comfortline trim ($35,145), VW adds forward collision detection with automatic braking. The fully loaded Highline trim ($40,195) adds lane-keeping assist, adaptive cruise control, automatic high beams, front and rear parking sensors, and 360-degree exterior cameras.
In the 2021 Mercedes-Benz GLB 250 ($46,500), those features are optional. If you want them all, you have to add the technology package ($1,600) to get adaptive cruise; the premium package ($3,600) for blind spot monitoring; and the advanced driver assistance package ($1,700) to get forward collision avoidance – all of which turn the GLB 250 into a $53,400 vehicle.
That said, a fully optioned GLB 250 comes with more safety kit than the Tiguan: The advanced driver assistance package adds a vehicle exit warning system, evasive steering assist, and an active lane-change assist function – none of which VW offers in the Tiguan.
If this comparison was strictly about which vehicle offers more safety features, the GLB would be our winner. But the VW Tiguan makes it more affordable to get a vehicle with advanced driver safety assists, so it gets the win in this category.
Practicality – Winner: Volkswagen Tiguan
Inside, the GLB boasts roughly 25 mm more front-seat head- and legroom compared to the Tiguan, but the Tiguan has a similar bonus in front-seat shoulder room.
Rear-seat (second-row) headroom is about the same in these two vehicles. The GLB 250 has 38 mm more legroom in its second row, while the Tiguan once again has the advantage in shoulder room, with about 25 mm more than the Mercedes.
In terms of cargo capacity, Mercedes-Benz says the GLB can accommodate 560 L behind its second-row seats, and 1,755 L with all rear seats folded. With the optional third row in place, there's 179 L of space left over.
According to Volkswagen, the Tiguan has a distinct cargo space advantage. It can carry 1,065 L of cargo behind its second-row seats, and 2,081 L with all rear seats stowed away. And if you option a Tiguan with the third row, you'll have 340 L of space left with all three rows in place.
Given a compact SUV's typical mission as a family vehicle, we give the win in this category to the Tiguan: what it gives up in leg- and headroom it makes up for with its larger cargo area.
Value – Winner: Volkswagen Tiguan
If we look at the absolute basics here, the VW Tiguan is already a stronger value, in the sense that buying the Mercedes means paying more money for a similarly sized vehicle. Let's look at what comfort and convenience features you get in each of these vehicles for their respective MSRPs.
Among the Tiguan Trendline 4Motion's ($31,995) key features are 17-inch tires on alloy wheels, heated front seats, A/C with manual controls, a six-speaker stereo with a 6.5-inch infotainment touchscreen, Apple and Android smartphone integration, cloth seating, heated windshield washer nozzles, LED daytime running lights and taillights, and heated side mirrors. Also included is the blind spot monitor we mentioned above in our discussion about safety features.
Tiguan Comfortline 4Motion ($35,145) adds an eight way-power driver's seat with lumbar, passive keyless entry, navigation, an 8.0-inch touchscreen, automatic climate control, power tailgate, rain-sensing front wipers, leatherette-trimmed steering wheel and seats, and an auto-dimming rearview mirror.
A Tiguan United Edition ($37,145) gets an eight-speaker stereo, a digital gauge cluster, a panoramic sunroof, and ambient cabin lighting.
Finally, Tiguan Highline ($40,195) gets VW's full suite of safety kit, plus a Fender sound system, remote engine start, a hands-free tailgate, adaptive LED headlights, 18-inch wheels and tires, power-folding side mirrors, a front wiper de-icer, a heated steering wheel, and real leather upholstery.
We've already established that the Tiguan's basic safety package – minimal as it is – is better than that of the GLB 250.
Rather than simply list all the GLB 250's standard features, here are the items Mercedes includes for the GLB's $46,500 starting price that are only offered in up-level Tiguan trims or not offered in the VW at all.
On the outside, the GLB 250 comes standard with larger (18-inch) wheels than the Tiguan. It also gets a panoramic sunroof, rain-sensing wipers, power-adjustable front seats, automatic climate control, artificial leather upholstery, auto-dimming driver's side and rearview mirrors, power-folding side mirrors, a 7.0-inch digital gauge cluster, and a 7.0-inch infotainment display.
Both of these small SUVs can be optioned with third-row seats. In the Tiguan, they cost $750 in all trims; Mercedes charges nearly double that — $1,300 – to make the GLB a seven-seater.
The Mercedes-AMG GLB 35's additional features mostly contribute to its sharper performance. Mechanically, there are sportier drive modes, an adjustable suspension, larger brakes, 19-inch wheels, and a sport exhaust system. Inside, the GLB 35 comes with ambient cabin lighting, Mercedes's Artico/Dinamica upgraded seat upholstery, and larger (10.25-inch) gauge and infotainment displays.
Key among the GLB's optional features, regardless of which model you buy, are real leather seating, passive keyless entry, and a hands-free tailgate, all of which VW includes in the Tiguan Highline.
On the surface, choosing a value winner here is easy. For its lower price, the Tiguan – even in top-end Highline trim – offers similar practicality and includes most of the same useful and desirable upscale features as the base GLB 250.
However, if you're considering the Tiguan based on its predecessor's reputation for being fun to drive, it loses some of its advantage to the Benz, whose more powerful engine provides more entertaining performance.
But while that performance edge gives the GLB a niche appeal, it doesn't have enough of an advantage anywhere else to earn our value vote, which goes to the Tiguan.
Overall winner – Volkswagen Tiguan We don't think it was hard to see where this comparison was going. The Mercedes-Benz GLB is a well-done take on a practical compact luxury crossover, but the way the VW Tiguan Highline nudges into the upscale category at a mainstream price makes it hard to ignore.