By Lori Straus
Whether you're about to purchase a used vehicle or you already own one, unless the manufacturer has your name and contact information, you won't find out directly if your vehicle is under recall. Follow these steps to check if your vehicle has a recall. Afterwards, we'll let you know how to get notified directly about future recalls on your vehicle.
Search Transportation Canada
Since 2018, the Minister of Transportation has been allowed to order manufacturers to issue a recall: consumers are no longer dependent on manufacturers issuing the recall on their own. Transport Canada has a recall database you can access easily and for free to search if your vehicle has a recall. You'll need the make, model, and year of your vehicle to perform the search, and the database will return any matches.
Contact a Dealership of Your Vehicle's Manufacturer
If a search comes up positive, you have one more step to take to confirm if your vehicle is affected. Write down your VIN either from your registration or the sticker under your windshield on the driver's side and contact a local dealer from your vehicle's manufacturer.
Just because Transport Canada says there is a recall on your make, model, and year doesn't actually mean that your vehicle has been recalled. Sometimes a recall only affects a certain batch of vehicles, e.g., vehicles made in a specific factory or ones that had a defective part installed. The only way for a dealership to know if your vehicle was recalled is by looking up your VIN.
As well, if you purchased your vehicle used, the recall may have been taken care of by the previous owner or by a dealer that previously owned it. The manufacturer or one of their dealers will be able to tell you if the recall work is still outstanding.
What to Expect If Your Vehicle Has Been Recalled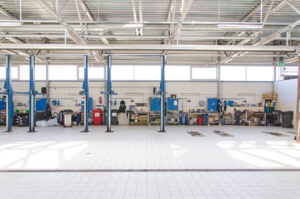 Unfortunately, this is one time you can't take your car to your regular mechanic, because they won't be able to repair the defect for free.
Dealerships must fix the defect free of charge to you. However, this doesn't mean your car needs a repair: recalls can also happen if a safety issue is suspected but not confirmed. The dealership does not have to automatically replace the part: they are only required to replace it if it is the defective one under recall.
If your vehicle is part of the recall, be aware that, depending on the size of the recall, you may not get into a dealership right away or there may be a delay in getting the part ordered. This leaves you in the unfortunate position of having to decide if you should continue driving your vehicle or not.
Also keep in mind that the law does not require dealerships to offer you a rental car while your vehicle is in for repairs. However, do ask if they have such a program just in case.
How to Receive Direct Notification of Future Recalls
If you have a used vehicle, the vehicle's manufacturer may not have your contact information, but you can easily change this. Contact the manufacturer's customer service number and request that the contact information for your VIN be updated. If there is ever a recall on your vehicle, the manufacturer will notify you instead of a previous owner.
If you have never checked Transport Canada's website for recalls on your vehicle, do so now. Staying current on safety information for your vehicle is an easy way to help make sure your vehicle is safe.