by Chris Chase
The market for mid-size crossover SUVs with five seats is hit-or-miss, depending on which automaker you've got in mind.
The Subaru Outback, Hyundai Santa Fe and Ford Edge are lifers in this club, having arrived in a roughly 10-year period between the late '90s and late '00s.
Other brands have been more reluctant to cross into this territory: Honda only recently did so in 2019 with the Passport, the same year Chevrolet revived its Blazer name.
Somewhere in the middle was the first-generation Toyota Venza, which arrived in 2009 and went away after 2016, surprisingly without a replacement. It's possible North America wasn't ready for the Venza's bold styling, which was out of step with the rest of Toyota's lineup at the time.
Toyota apparently thinks it's time to take another shot at a five-seat, mid-size SUV, offering up a second-generation Venza as a 2021 model.
2021 Toyota Venza Styling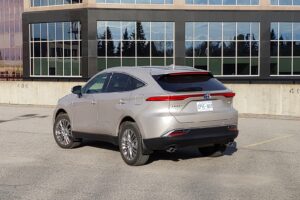 The Venza's most interesting views are in profile and from the rear, thanks to a tail that bears a striking resemblance to the Jaguar F-Pace. Coupled with the upscale look and feel of the Venza's cabin, it gives the impression Toyota is not seeking the attention of mainstream mid-size crossover shoppers.
That's bolstered by a $38,490 starting price – nearly $10,000 dearer than the entry-level Hyundai Santa Fe, and a reach from the low-$30,000 starting points of the Ford Edge and Subaru Outback.
To us, the Venza is a bridge between mainstream Toyota and the upscale Lexus lineup, where you'll find the compact NX crossover for $44,350 and the mid-size RX at $56,150.
2021 Toyota Venza Powertrain and Performance
The 2021 Toyota Venza is the brand's first all-hybrid SUV model, and its second hybrid-only vehicle after the Prius. And as we write this, Toyota is rolling out another new all-hybrid model in a redesigned Sienna minivan.
In the new Venza, a 2.5L gas engine and three electric motors (one up front and two in the rear for AWD traction) make a modest-sounding 219 hp. Acceleration is better, and quieter, than that number suggests, because the electric motors' useful torque reduces the car's reliance on the gas engine to get up to speed. Still, if you're looking for an alternative to Ford's speedy Edge ST or Subaru's new turbocharged Outback, you won't find it here.
The Venza's ride is comfortable enough, but there's a firm edge to the ride quality that suggest Toyota wants to convey a sporting character. However, despite that – and this crossover's Euro-inspired styling – this vehicle's handling is nothing close to entertaining.
If you test-drive a Venza, make sure you can live with its abrupt braking performance at low speeds. That's a common quirk of all hybrid Toyotas, and one we're surprised the company hasn't smoothed out yet.
2021 Toyota Venza Fuel Economy
According to Natural Resources Canada, Toyota's fuel consumption estimates for the Venza – 5.9/6.4 L/100 km (city/highway) – make it the second most efficient mid-size crossover (not including plug-in models) after the RAV4 Hybrid. My test vehicle averaged 6.8 L/100 km in a week of driving.
2021 Toyota Venza Interior Design and Comfort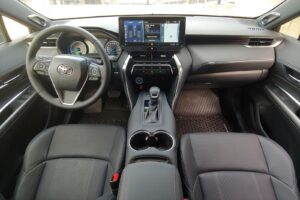 The Venza's mid-size designation suggests a certain level of interior space and utility. It lives up to those promises in some ways, but falls short in others.
My Venza XLE tester did not have the panoramic sunroof that's standard in the posher Limited model, so, once we were inside, we enjoyed good front-seat headroom. However, the front passenger seat has no height adjustment and is set high enough that you have to be careful not to hit your head on the way in. Getting in is easier on the driver's side, thanks to that seat's extra adjustability.
A wide console makes the front seating area feel smaller than it is.
Getting in and out of the rear seat is actually less complicated, despite the downward curve of the rear door openings. Rear-seat headroom is good as well.
Despite being longer than the RAV4, the Venza's cargo area is smaller, mostly because of its shapelier body. It's also a big lift to get heavy items up over the Venza's high rear bumper.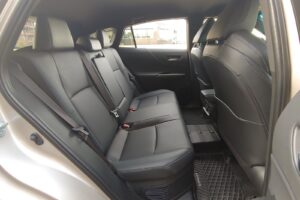 Venza XLE and Limited get a 12.3-inch infotainment display with a handy split-screen function. One of its more useful features is the ability to move the screen's auxiliary climate controls from one side of the screen to the other to make them more accessible to either the driver or front passenger.
2021 Toyota Pricing and Options
Contributing to the entry-level Venza LE's ($38,490) upscale feel are standard features like a power tailgate, passive keyless entry, wireless smartphone charging, heated front seats, a power driver's seat, dual-zone automatic climate control, and ambient cabin lighting.
Standard driver assists include blind spot monitoring, rear cross-traffic alert, automatic high beams, lane-departure alert with steering assist, radar cruise control, and forward collision detection with automatic braking.
My $44,490 XLE tester added 19-inch wheels (up from the LE model's 18s) a hands-free tailgate, rear cross-traffic braking, a nine-speaker stereo, the larger infotainment screen, an auto-dimming rearview mirror, heated steering wheel, a power front passenger seat, ventilated front seats, and artificial leather upholstery.
Among Limited trim's ($47,690) functional additions are a head-up display, rain-sensing wipers, a bird's-eye view camera system, and a camera-based rearview mirror.
Conclusion
There's a lot of overlap between the Venza and Toyota's RAV4. While the latter is technically a compact crossover, it has grown to the point that, functionally speaking, it is now a mid-size model, and its boxier shape makes it more practical than the Venza.
Blurring the lines further, Toyota offers the RAV4 in a hybrid version that uses the same powertrain as the Venza, but at lower prices in similar LE, XLE and Limited trims.
We think the RAV4 Hybrid is the best version of that popular vehicle, and the Venza is a nice vehicle to drive for all the same reasons. If you're willing to give up some of the RAV4's practicality in favour of more attractive styling, the Venza might be the mid-size model for you.
2021 Toyota Venza
Rating: 4/5
Vehicle category: Mid-size crossover utility vehicle
Engine: 2.5L four-cylinder, electric motors; 219 hp, 163 lb-ft torque (gas engine only)
Transmission: Continuously variable automatic
Notable standard features (LE; MSRP: $38,490): Power tailgate, passive keyless entry, wireless smartphone charging, heated front seats, power driver's seat, dual-zone automatic climate control, ambient cabin lighting
Notable options (As tested: Limited; XLE: As-tested, $44,490): 19-inch wheels, hands-free tailgate, rear cross-traffic braking, nine-speaker stereo, 12.3-inch infotainment screen, auto-dimming rearview mirror, heated steering wheel, power front passenger seat, ventilated front seats, artificial leather upholstery
Fuel economy, ratings (l/100km, city/highway): 5.9/6.4Fuel economy, observed (l/100 km): 6.8