by Chris Chase
If you're looking for a way to move a family of five or six, no vehicle can beat a minivan's practicality and interior space. And for family buyers on a budget, a minivan that's about 10 years old could be an affordable way to meet your daily driving needs.
However, as when buying any vehicle that's been on the road for a decade, an older minivan should be approached with caution so you don't end up with someone else's problems. Read on for our guide to choosing a minivan for inexpensive and reliable family transportation.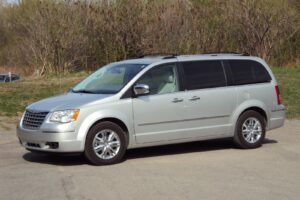 Chrysler Town & Country, 2008-2016, and Dodge Grand Caravan, 2008-2020
In 2010, the Chrysler Town & Country and Dodge Grand Caravan were well into their fifth generations, a design that had was introduced in 2008. The 2011 models got refreshed styling and a new 3.6L V6 (283 hp/260 lb-ft of torque), while vans built prior to 2011 used either a 3.3L or 4.0L V6.
In 2014, FCA changed the 3.6L engine's oil filter mount, and soon after, the new part became known for developing cracks that can cause an oil leak.
In vans with the older 4.0L engine, watch for coolant leaks.
The six-speed transmission in these vans is known for performance that ranges from quirky to annoying.
Many Grand Caravan and Town & Country owners complain of brakes and suspension parts that wear out prematurely. Vibrations felt through the brake pedal indicate warped rotors. You may get better results buying upgraded replacement brake parts from an aftermarket auto supply store instead of buying them from a Dodge/Chrysler dealer.
Volkswagen Routan, 2009-2012
The Routan was Volkswagen's last entry in the minivan segment. It's a mechanical clone of the Dodge and Chrysler vans discussed above, so you should exercise similar care when shopping for one. The Routan's main advantage was its suspension, which was tuned for better handling than the Chrysler and Dodge vans.
When test-driving, take the time to try out everything in the van's cabin, from the air conditioning (especially if it has rear-seat A/C) to the fold-away seats. If the van you're looking at has a touchscreen infotainment system, test it thoroughly, too. It should work without freezing or randomly restarting.
A used version of one of these Chrysler, Dodge or VW vans can be an affordable family vehicle. However, it is important to get it checked by a mechanic of your choosing before you buy. A comprehensive inspection should cost no more than $200 and can uncover problems waiting to happen.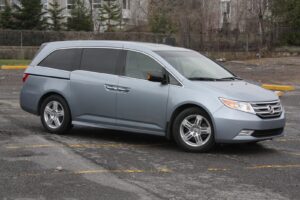 Honda Odyssey, 2005-2010 and 2011-2017
Honda redesigned its well-known Odyssey minivan in 2011. It improved on the previous model with a nominal power increase from its 3.5L V6 (248 hp/250 lb-ft) and an available six-speed transmission that became standard in all trims in 2014.
Early in the newer van's run, owners began complaining about messages warning of low battery voltage when nothing is wrong with the battery.
Here's a long discussion about transmission durability and how fluid changes, overheating and updates to its computer software can affect durability. Don't buy a used Odyssey without a pre-purchase inspection that includes a look at the condition of the transmission fluid. And when driving, note any rough shifting that could indicate advanced wear and tear.
Honda fitted the Odyssey's engine with a variable cylinder management (VCM) system to save fuel. However, it is also the source of reliability concerns.
In the older generation of Odyssey, take care when replacing the tensioner pulley that keeps the accessory drive belt taut.
And here's some information about transmission reliability in the 2005-2010 vans.
The Odyssey is also known for poor-quality brake components. When driving, watch for brake pedal vibrations caused by warped rotors.
Also, test the Odyssey's heated seats, power side and rear doors (if equipped), and all other electrical equipment to make sure it works as expected.
Toyota Sienna, 2004-2010 and 2011-2020
Like most Toyota models, the Sienna is one of the most reliable vehicles in the minivan class. If you want to take advantage of that reputation by buying a decade-old Sienna, you'll get to choose from two generations of this van.
The second-generation model ended in 2010 and was replaced by a third-gen design in 2011. Both versions of the Sienna use a 3.5L V6 (266 hp/245 lb-ft). The older van paired it with a five-speed transmission, while the newer one got a six-speed. Toyota made the newer Sienna with a four-cylinder engine too, but you won't find many of these bargain-basement versions. An all-wheel drive option is more common in used Sienna vans.
One of the second-generation Sienna's most common issues is power sliding doors that stop working. (https://www.siennachat.com/threads/sienna-power-sliding-door-problems-the-thread.1300/)
If the van you're looking at has the optional power-folding third-row seats, read this. (https://www.siennachat.com/threads/2006-sienna-xle-limited-power-third-row-problems.889/)
And if the power tailgate opens and almost immediately closes, the fault could be with the struts that hold the door open. This is especially common in cold weather. (https://www.siennachat.com/threads/rear-liftgate-strut-cold-weather-operation.459/)
In the newer Sienna, listen and feel for clunking or clicking from the steering as you turn the wheel. Such sounds could mean the steering system's intermediate shaft needs to be replaced. (https://www.siennachat.com/threads/intermediate-steering-shaft-issue-on-3rd-gen.4256/)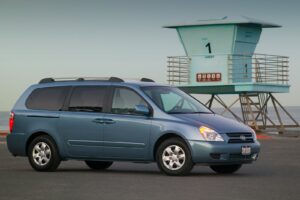 Kia Sedona, 2006-2014
If you want a roughly 10-year-old Kia Sedona minivan, you'll be looking at a design introduced in 2006 and replaced after 2014. Early versions of these vans had a 3.8L V6 engine (250 hp/253 lb-ft) and a five-speed transmission. In 2011, Kia replaced that combo with a 3.5L engine (271 hp/248 lb-ft) and a six-speed.
Here's a discussion about Sedona vans that won't start. (https://www.kia-forums.com/threads/2006-sedona-not-starting.39139/)
If a Sedona's power sliding doors won't work, the cause could be faulty electric motors. (https://www.kia-forums.com/threads/please-help-with-power-sliding-doors-2007-sedona.81215/)
A Kia Sedona engine that won't accelerate could be caused by a bad throttle position sensor. (https://www.kia-forums.com/threads/esc-off-and-sudden-lack-of-throttle-response-tps-ecu-tsb-kt2009042201.44306/) Kia issued a service bulletin to help its dealer technicians fix this problem.
There isn't a lot of in-depth information available about the Sedona's long-term durability. Your best bet is to choose a van that comes with detailed service records, but even without those, an inspection by a trusted mechanic will tell you whether the vehicle has been properly cared for.
When doing your test drive, listen for clunking or knocking sounds from the suspension over bumpy roads, and watch for rough shifting from the transmission. Also test the van's power doors and tailgate (if it has them) for smooth operation. Run all other electrical components to make sure they work. Finally, test the heater and air conditioning at all temperature and fan speed settings.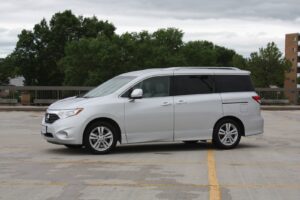 Nissan Quest, 2004-2009 and 2011-2013
Your search for a 10-year-old Nissan Quest will bring up two designs. Nissan introduced the second-generation Quest in 2004 and retired it in 2009. After skipping the 2010 model year, a third-gen Quest arrived for 2011 and went away after 2013.
Both versions came with a 3.5L V6 engine that made 235 hp/240 lb-ft and came with a five-speed automatic transmission in earlier vans. The newer Quest derived 253 hp/236 lb-ft from the engine and used a continuously variable transmission.
The Nissan Quest's engine is known for timing chain components that wear out and can fail. (https://www.nissanclub.com/threads/vq35de-timing-chain.317376/) An early symptom is a rattling noise while the engine is running.
The Quest was never a big seller, so it's difficult to find trustworthy information about its reliability. If you're keen on one of Nissan's minivans, our advice is to have the vehicle inspected by a trusted mechanic before you buy.
Also, if safety is high on your list of wants, know that early versions of the newer Quest did poorly in some crash tests. (https://www.iihs.org/ratings/vehicle/Nissan/quest-minivan/2011)