If you want to trace the origins of the subcompact crossover segment, you don't have to go very far back in time. The Subaru Crosstrek (originally the XV Crosstrek) and Mitsubishi RVR created this now-popular category in the early 2010s. It took a few years for other automakers to catch up, but now, just about every mainstream automaker has at least one vehicle in this category.
Given that the segment's originators were Japanese models, we thought we'd compare that pair with Japan's other subcompact SUVs to see how they stack up in terms of reliability.
Mitsubishi RVR, 2011-2020
At its introduction, the RVR was powered exclusively by a 2.0L four-cylinder engine making 148 hp and 145 lb-ft of torque. In 2015, Mitsu added an optional 2.4L engine with 168 hp/167 lb-ft. In early versions, you could get front-wheel drive with a manual transmission, but the stickshift went away in 2018. You could still get a FWD RVR, but from 2018, all trims came with a continuously variable automatic transmission (CVT).
Mitsubishi updated the RVR's styling in 2013 and 2016. A more significant cosmetic update came in 2020, but the car's underpinnings remained the same. In the U.S. market, Mitsubishi calls this model the Outlander Sport.
Before you start your RVR test drive, do a walk around and look for evidence of paint chips, which can lead to body rust as the car ages.
Once you're underway, listen for clicking, grinding or popping noises from the steering as you turn the wheel. Those sounds could indicate worn front strut mounts. While you're at it, listen for clunking noises from the suspension when driving over rough roads, which can point to worn shocks or ball joints.
Mitsubishi recalled some 2016 RVR models for a transmission problem that could cause a sudden and unpredictable lack of acceleration. The fix was to reprogram the CVT's computer controls. Before you buy, check to see if the RVR you're testing was part of that campaign, and if so, whether the recall procedure has been carried out.
Subaru Crosstrek/XV Crosstrek, 2013-2020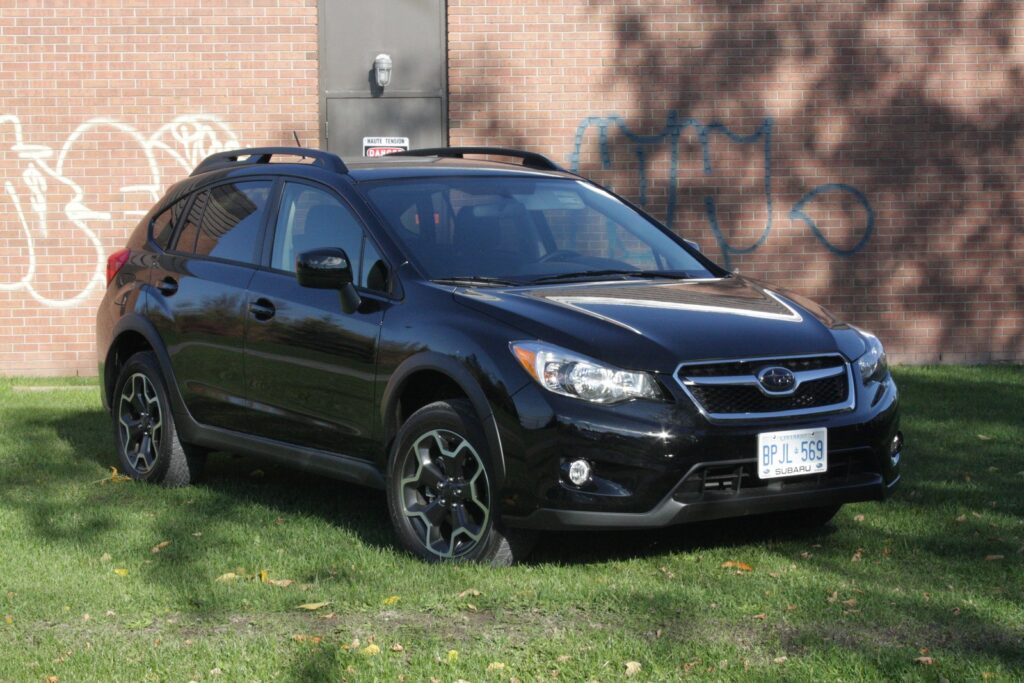 Subaru launched the XV Crosstrek in 2013 by adding structural enhancements to its Impreza hatchback and raising the suspension. Power came from the Impreza's 2.0L engine (148 hp/145 lb-ft of torque). The standard transmission was a five-speed manual, and an automatic CVT was optional. As is Subaru's way, AWD was included in all versions. They also offered a slow-selling gas-electric XV Crosstrek Hybrid from 2014 through 2016.
In 2016, Subaru updated its smallest crossover with refreshed styling and dropped the XV from the name. A second-generation Crosstrek arrived in 2018 with all-new styling, a new platform, and an updated engine with 152 hp. As we write this, the current Crosstrek is the only new small crossover you can buy with a manual transmission and AWD.
Before you start your Crosstrek test drive, check the engine oil level. Some owners report excessive oil consumption in older models, complaints that led to a class-action lawsuit that applied to 2013 Crosstreks.
The Crosstrek's engine uses a timing chain. While it should last the life of the engine, its longevity depends on regular oil changes and making sure the oil level doesn't go too low. Ask the seller if they have maintenance records for the car.
Before you even get in the car, have a look at the driver's seat. Some owners report collapsed seat padding and worn-out fabric.
If you're shopping for a Crosstrek with the CVT, watch for any jerky or clunky shifting behaviours while driving, and listen for strange sounds. This transmission should function so smoothly and quietly that you barely notice it.
Like any automatic transmission, Subaru's CVT requires periodic fluid changes to prevent mechanical damage. For most Crosstreks in Canada, that maintenance should be done according to Subaru's "severe use" maintenance schedule, which dictates more frequent fluid changes.
Many Crosstrek owners complain of premature brake wear, including worn-out brake pads and warped rotors. When you test-drive a used Crosstrek, pay close attention for any pulsation in the brake pedal and squeaking and grinding noises when braking.
If you test-drive a Crosstrek in warm weather, turn on the A/C to make sure it blows cold. Compressor failures and refrigerant leaks appear common in these cars.
Mazda CX-3, 2016-2020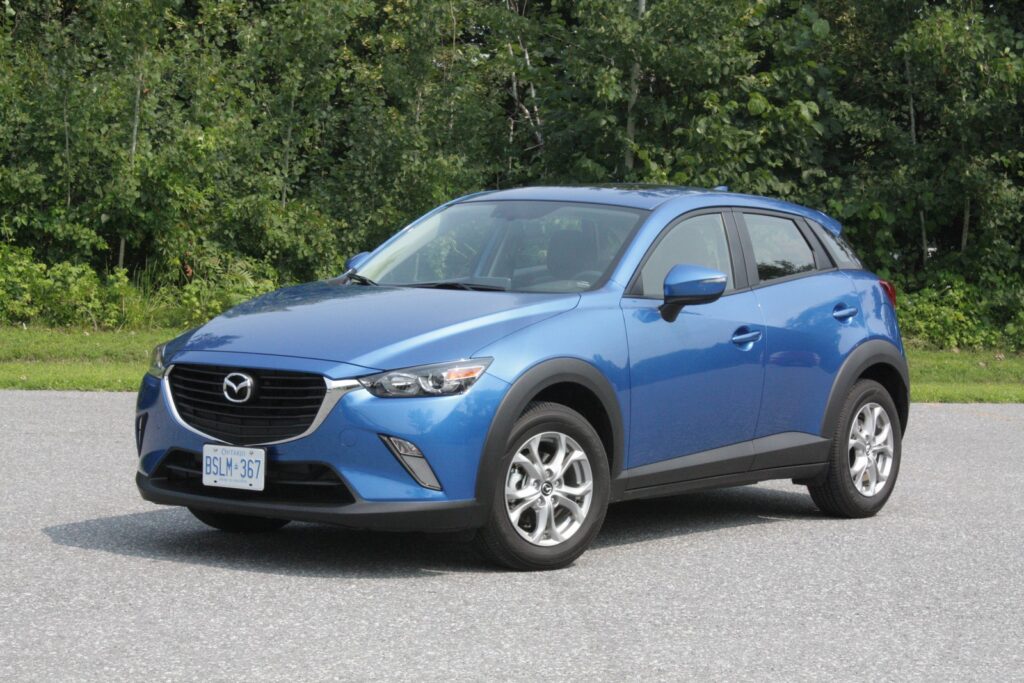 Mazda joined the subcompact crossover category in 2016 with the CX-3, a vehicle based on a subcompact Mazda2 hatchback the company never imported to North America. (However, it did end up being sold by Toyota as the Yaris.)
The CX-3's powertrain consisted of a 2.0L engine (146 hp/146 lb-ft) that could be had with either front- or all-wheel drive, and came standard with a six-speed automatic transmission.
In 2018, Mazda updated the CX-3 to improve ride quality and reduce cabin noise, and added a manual transmission as standard equipment in FWD models. In 2019, the CX-3 got refreshed styling inside and out.
Some CX-3 owners have complained about automatic transmissions that are slow to engage forward gears when shifted into drive, or engage harshly. (https://www.cx3forum.com/threads/auto-transmission-issues.7073/) Transmission problems like this can also be caused by poor maintenance and/or a low fluid level, so a quick check of the transmission fluid is a good idea. If the fluid on the dipstick has a burnt smell, that means it's overdue for a change.
If your test drive coincides with a hot day, check the CX-3's air conditioning. Mazda issued a service bulletin for early 2016 models to fix a refrigerant leak that leaves the CX-3 blowing warm air. Mazda also issued a bulletin to help its technicians reprogram the CX-3's optional automatic climate control system after some owners complained it did not cool the car down adequately.
At some point during your test drive, open and shut the tailgate a few times. Some owners say they've had trouble with the release mechanism activated by the button on the outside. (https://www.cx3forum.com/threads/liftgate-lock-latch-not-opening.5938/)
Have a look at the CX-3's headlights to see if there is any condensation inside the housing. (https://mazda.oemdtc.com/1087/excessive-water-intrusion-or-condensation-of-halogen-headlight-2016-2017-mazda-cx-3) Here's some more reading about this issue. (https://www.cx3forum.com/threads/headlights-condensation.11962/)
Some CX-3 owners say they've discovered that water leaks into their cars' tailgates. The problem is apparently a bad gasket around one of the taillights. (https://www.cx3forum.com/threads/hatch-water-leak.18395/)
With the car parked somewhere safe, spend some time using the CX-3's infotainment system, watching out for slow responses and the screen freezing. And if the car you're looking at has the optional navigation system, try it out to make sure it provides accurate directions.
Honda HR-V, 2016-2020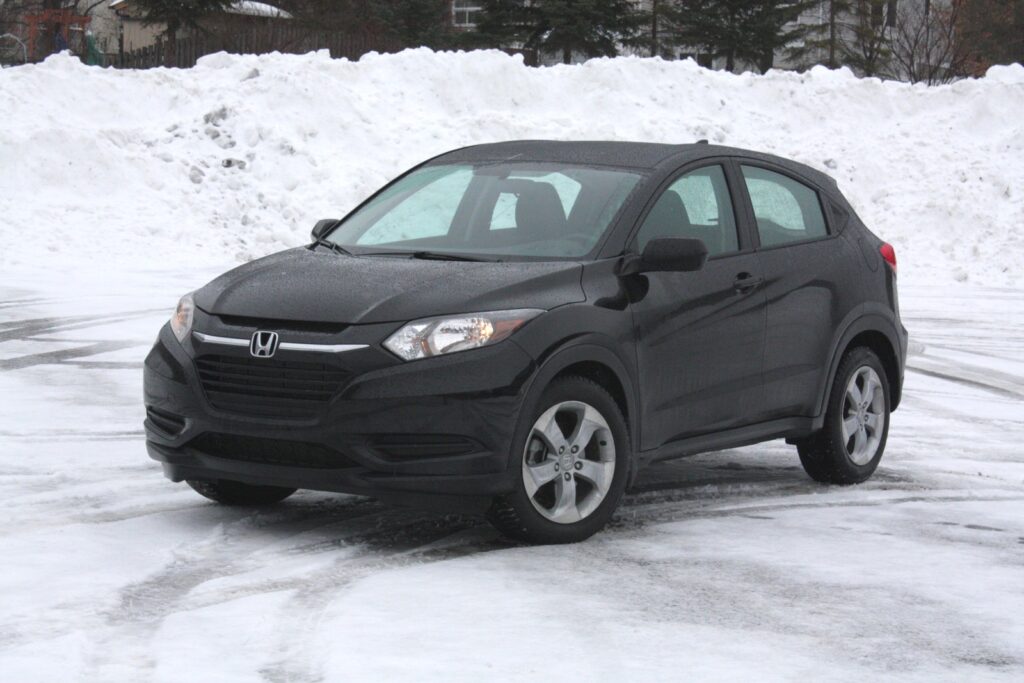 The Honda HR-V rolled into Canadian showrooms for the 2016 model year riding on a platform shared with the Fit hatchback. From that car, the HR-V inherited a clever interior design that made this one of the most spacious cars in the class. All versions were powered by a 1.8L engine (141 hp/127 lb-ft) that came with FWD and a six-speed manual transmission in entry-grade trims, while AWD and a CVT were standard in uplevel models.
Honda gave the HR-V a mid-cycle refresh in 2019 that brought styling changes and eliminated the manual transmission.
Premature wear of brake and suspension components are common issues, as are interior squeaks and rattles. Suspension-wise, worn shocks are usually the source of complaints about clunking noises over rough roads. (https://www.hrvforum.com/threads/noise-when-going-over-speed-humps-strut-issue-merged.15402/)
A very few HR-V drivers have had troubles with the car's continuously variable automatic transmission, but CVT problems are the exception rather than the rule here. (https://www.hrvforum.com/threads/cvt-transmission-issues-merged.37073/) Still, Honda extended its CVT warranty coverage (in the United States; we're not sure if Honda Canada did the same) and issued a service bulletin to help its dealer technicians reprogram the CVT's controls to improve its reliability. (https://www.hrvforum.com/threads/2016-2020-cvt-warranty-extended-to-7-years-150k-miles.42316/)
When test-driving, note any abrupt engagement of the transmission or rough transitions between ratios. A CVT like the one in the HR-V should provide smooth, nearly imperceptible shifts.
Look for condensation or water pooling inside the taillights. (https://www.hrvforum.com/threads/taillight-fills-with-water.35242/)
Like the Mazda CX-3, the Honda HR-V is known for water leaking into and accumulating in the tailgate door. (https://www.hrvforum.com/threads/water-in-rear-hatch.38625/)
Some HR-V drivers have had battery trouble. In some cases, the battery goes dead while the car is parked. Another well-known scenario is a still-barely-good battery whose voltage is low enough to cause electrical glitches in the HR-V, like random warning lights and all-wheel drive faults.
Honda has a reputation for so-so air conditioning compressors. If you test-drive on a hot day, verify that the A/C keeps you as cool as you want to be.
Nissan Qashqai, 2017-2020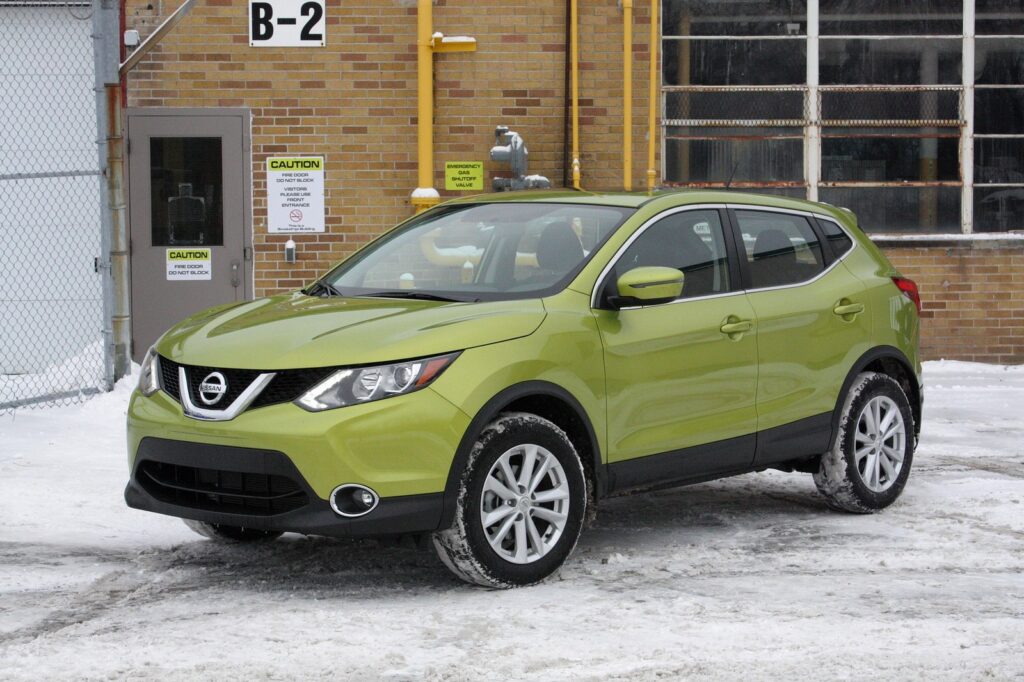 Nissan was one of the last Japanese brands to enter the subcompact crossover class, adding the Qashqai to its lineup in 2017. It's powered by a 2.0L engine (141 hp/147 lb-ft) that started with FWD and a six-speed manual transmission; an automatic CVT was standard in most trims, and AWD was optional.
The Qashqai got a styling refresh in 2020. If you're looking for information online, note that Nissan calls this car the Rogue Sport in the U.S.
Nissan was one of the first automakers to use CVTs in large numbers, and has made thousands of them for other manufacturers, but the Qashqai's CVT still generates reliability complaints. We don't think you have much to worry about if you buy a well-maintained example of this crossover. We've included more reading about CVT maintenance below.
Some owners complain about Qashqai batteries that go flat while the car is parked, while others say their cars have other unexplainable electrical issues. Sometimes, these troubles can be caused by frequent short trips combined with the complicated electronics built into modern cars, which can drain a battery slowly over time.
The Qashqai's air conditioning and climate control systems generate some complaints, so run the car's heater and A/C through all of their manual and automatic (if equipped) functions during your test drive. Note any delayed changes – or lack of action – in air temperature or vent selection. As in many modern cars, the Qashqai's climate system is fully electronic, and sometimes the only way to fix faults is to replace the control unit, which can get expensive.
Find a patch of rough road to drive over, listening for clunks, thumps and bangs that could indicate worn suspension components.
Most used Qashqai models will have an infotainment screen that doubles as the backup camera display. First, verify that the camera works every time you shift into reverse. Then, park the car and use the touchscreen controls to try to coax out any sluggish responses or system crashing and random rebooting. As with the climate control system, a faulty touchscreen system is a pricey replacement.
CVT maintenance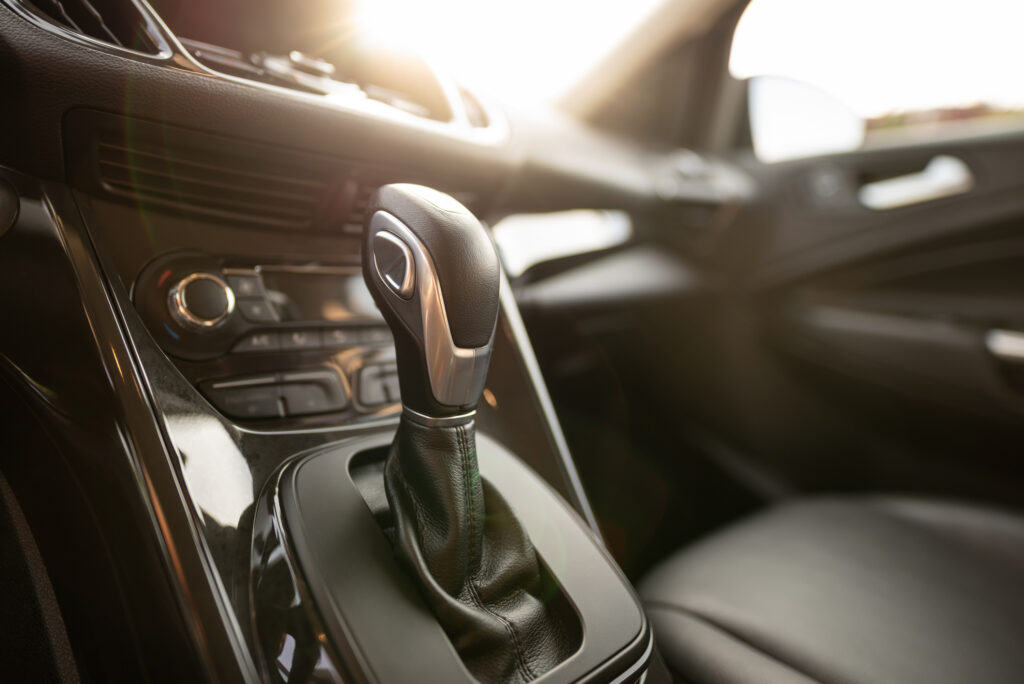 All but one of the vehicles we discuss in this article have continuously variable automatic transmissions, or CVTs. Like any automatic transmission, a CVT requires periodic maintenance – fluid and filter replacements, mostly – to ensure reliability. Most vehicles have two service schedules, one regular and another for "severe" operating conditions with more frequent service intervals. No matter what you think about the way you use a car, almost all vehicles driven in Canada should follow the severe service schedule, including for transmission fluid changes.
Also, many CVTs use special fluid designed for specifically for them. You cannot top off a low fluid level in a CVT with fluid made for a conventional automatic. For this reason, a dealer service department is the best place to have your vehicle's CVT serviced to avoid problems caused by accidentally using the wrong lubricant.
When looking at a used vehicle, ask the seller if they have service records you can look at. Failing that, get the car inspected by a mechanic you trust before you buy to help avoid nasty surprises.
If the transmission's health checks out but you don't know the last time the car got fresh transmission fluid, get it changed shortly after you buy the car. Get the engine oil changed, too: it never hurts to change those fluids sooner than you need to.
Infotainment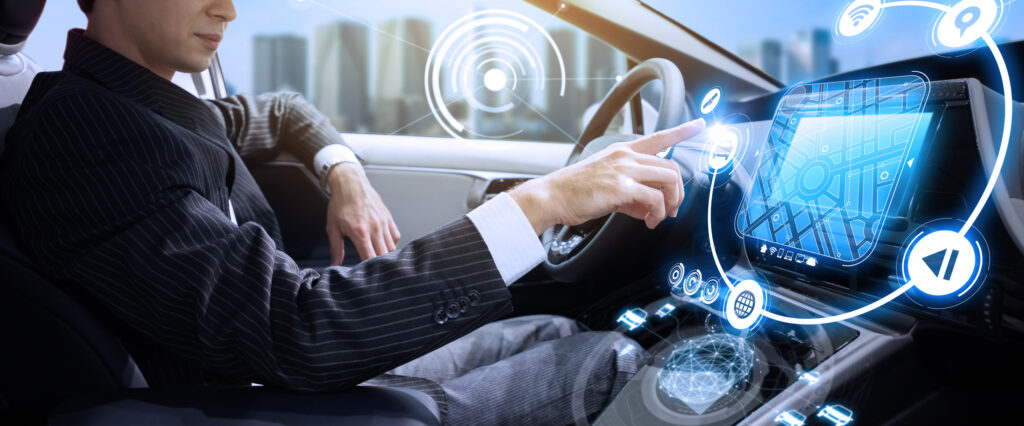 Most of the cars we've discussed in this article come with some form of infotainment touchscreen system. These are a handy way for an automaker to consolidate multiple vehicle systems into one interface, but they can be troublesome in an aging car. Test all of the screen's functions for prompt responses. If the screen goes dark or the system freezes and/or reboots, get the trouble diagnosed before you buy. Software problems are relatively easy to fix, but if the issue is hardware-related, that can get expensive quickly.