In the last decade, the auto industry has responded to consumer demands for more fuel-efficient vehicles with a variety of technological solutions. These have included innovations like direct fuel injection, turbocharging, and engines and transmissions with low-friction internal components.
And then, of course, there are hybrid drive systems, which save fuel by relying partly on electricity to drive the car.
However, if you're fixated on fuel economy for budgetary reasons, vehicles equipped with those sophisticated features may be out of reach. To help you find a late-model car that saves fuel the old-fashioned way — by putting a simple, efficient motor in a small body — we went digging through Natural Resources Canada's (NRCan) database to find the five most efficient combustion-powered cars from the 2015 model year.
They're not fancy, and most are not particularly spacious, but a well-maintained example of any of these cars will be inexpensive to buy and operate.
5. 2015 Volkswagen Golf TDI diesel – 6.5 L/100 km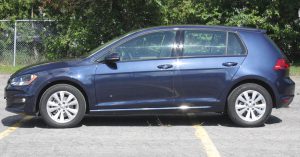 This is the only diesel on our list, and it's a notable one for being at the epicentre of the VW emissions scam that drove Canada's diesel desire into the ground.
In 2015, the Golf TDI used a 2.0L turbodiesel good for 150 hp and 236 lb-ft of torque, making it the most powerful vehicle on our list. It's also the roomiest, most refined car here.
Natural Resources Canada's combined fuel consumption estimate for the 2015 Golf TDI with an automatic transmission is 6.5 L/100 km — and that's for a car modified to correct the emissions cheat and provide the clean performance VW promised.
4. 2015 Smart Fortwo coupe – 6.5 L/100 km
Next up is the sole two-seater in this quintet of cars. The Smart Fortwo is the Mercedes-Benz-built city car introduced to Canada in 2006.
While early cars used a diesel engine, a 2008 redesign came with a 1.0L, 3-cylinder gas engine. The 2015 model makes a modest 70 hp and 68 lb-ft of torque and uses a five-speed automated manual transmission.
The Fortwo boasts charming styling, but its transmission is known for jerky operation that gets annoying in stop-and-go city driving. Helping to make up for that is a combined fuel consumption estimate of 6.5 L/100 km.
3. 2015 Scion iQ – 6.4 L/100 km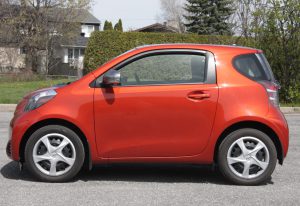 The Scion iQ was Toyota's answer to the Smart Fortwo, but squeezed a pair of small rear seats to boost the car's practicality.
A 1.3L 4-cylinder engine makes 94 hp and 89 lb-ft of torque. It comes matched with a continuously variable transmission (CVT) whose smooth operation stands in stark contrast to the Fortwo's five-speed.
NRCan rates the iQ's fuel consumption at 6.4 L/100 km.
2. 2015 Honda Fit – 6.4 L/100 km
Honda first sold the Fit in Canada in 2007 and redesigned it into a second generation in 2009. The 2015 model we're considering here marked the arrival of a third-gen model.
The Fit is classified as a small station wagon, but it's more appropriately thought of as a subcompact hatchback. It's neatest design quirk is a gas tank positioned under the front seats. That allows an uncommonly low floor in the back and contributes to a surprisingly roomy interior.
In the Fit, a 1.5L 4-cylinder engine makes 130 hp and 114 lb-ft of torque; an optional CVT is more efficient than the standard manual transmission, with a combined fuel consumption estimate of 6.4 L/100 km.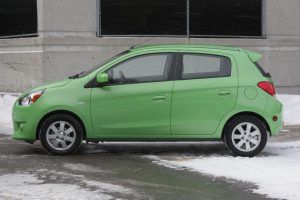 1. Mitsubishi Mirage – 5.9 L/100 km
While it is a thoroughly modern car, the Mitsubishi Mirage was designed primarily to provide affordable transportation for drivers in developing nations. By North American standards, then, it arguably offers less refinement than any of the other cars on this list.
But refinement isn't the point here; fuel economy is, and the Mirage's 1.2L 3-cylinder engine (78 hp/74 lb-ft of torque) provides that with a combined estimate of 5.9 L/100 km when equipped with an optional CVT. There's a manual transmission, too, but it's not quite as thrifty as the automatic.