So you're a family driver ready to ditch your aging minivan for a trendier SUV model, but you're nervous about how much your fuel costs will increase. That's a valid concern: SUVs and crossovers are often criticized for being less efficient than the minivans and sedans that once dominated the family-car market.
However, if you shop carefully and are willing to sacrifice certain features – like all-wheel drive, in some cases – you can get a used SUV with three rows of seats and fuel economy that won't empty your wallet every time you fill the tank.
Here are the most efficient mid-size SUV and crossover models with three rows of seats from the 2017 model year. As arbitrary as a four-year age limit sounds, it makes it more likely that you'll find used examples with factory warranty remaining, as some of these vehicles came with five-year coverage for their powertrain components.
1. Toyota Highlander AWD 8.3L/100 km combined (8.1 city/8.5 highway)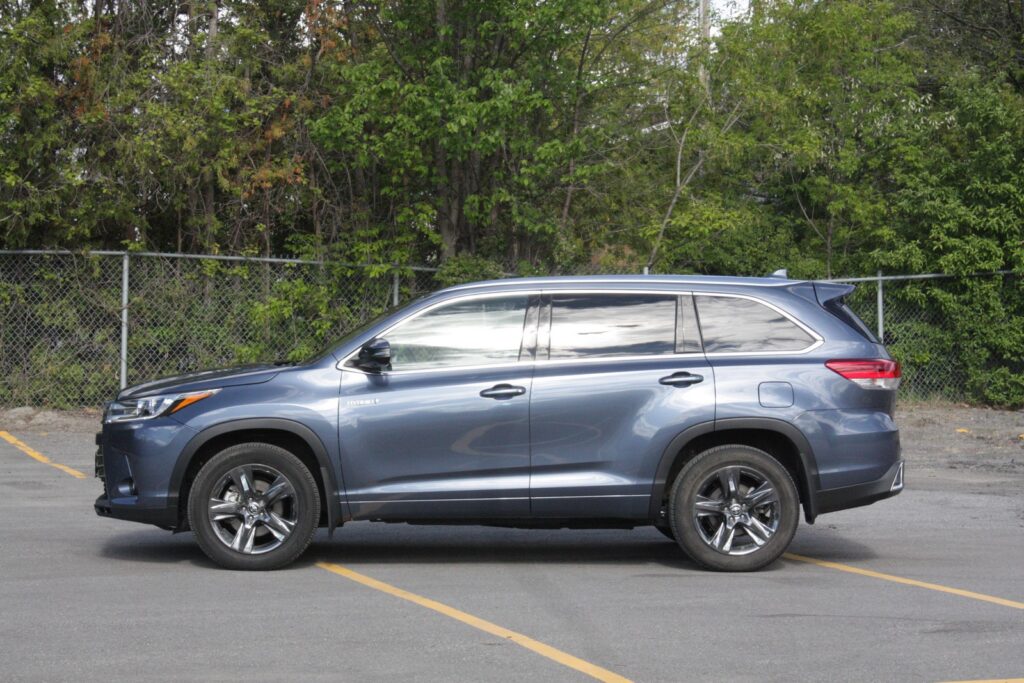 In 2017, Toyota was the only automaker that offered a hybrid drivetrain in a mid-size crossover with three-row seating. Power came from a 3.5L V6 engine matched with an electric motor and a continuously variable transmission for 306 hp. Seating was for seven or eight people depending on trim: the entry-level Highlander Hybrid XLE seats three in each of its second and third rows, while the uplevel Limited has two second-row bucket seats. Buy a Highlander Hybrid XLE and you get three-zone A/C, navigation, heated/power front seats, leather upholstery, and rear-door sunshades. Limited's notable additions are a 12-speaker stereo, heated second-row seats, ventilated front seats, surround-view cameras, and a panoramic sunroof.
2. Mazda CX-9 FWD – 9.6 L/100 km combined (10.6 city/8.4 highway)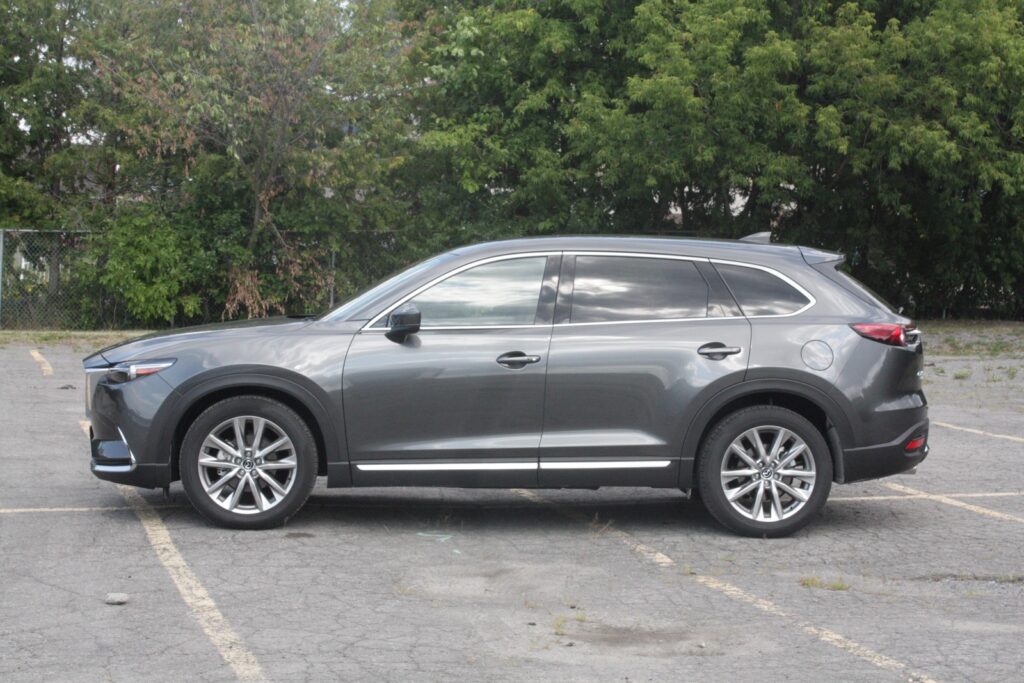 Mazda redesigned the CX-9 into a second generation in 2016, sporting an all-new design and powered by an equally new 2.5L turbocharged four-cylinder engine (250 hp and 310 lb-ft) and a six-speed transmission. Only the base GS model started with front-wheel drive, making it the most efficient version of this stylish three-row crossover, and one of just two on this list with a combined city/highway estimate of less than 10.0 L/100 km. In 2017, AWD versions of the CX-9 were rated for 10.4 L/100 km in combined driving.
The 2017 Mazda CX-9 GS came with 18-inch wheels, a backup camera (a year before Transport Canada required one in every new vehicle), LED headlights, three-zone A/C, heated front seats, and push-button engine start.
3. TIE — GMC Acadia 2.5L FWD – 10.2 L/100 km combined (11.0 city/9.2 highway)
Nissan Pathfinder FWD – 10.2 L/100 km combined (11.6 city/8.4 highway)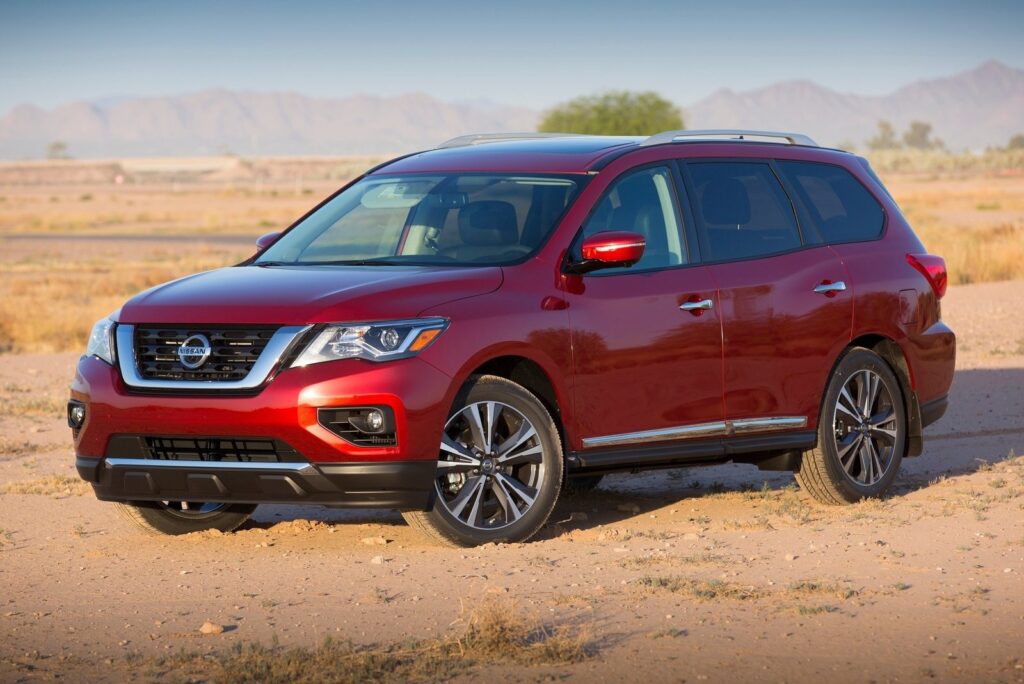 GMC downsized the second-generation Acadia for its 2017 introduction. It's 180 mm shorter and 92 mm narrower than the previous Acadia, but actually has more second-row passenger space. The most efficient version is an entry-grade SLE model with a 193-hp 2.5L four-cylinder engine, front-wheel drive, and a six-speed transmission.
Despite its modest performance, the Acadia SLE came with useful niceties like three-zone A/C, passive keyless entry, and a 7.0-inch infotainment system.
GMC also offered the Acadia's four-cylinder engine with AWD and a combined fuel consumption estimate of 10.4 L/100 km. We suspect you won't find many four-cylinder models on the used market; more common is an optional 310-hp V6 that was rated for 11.3 L/100 km with FWD and 11.6 with AWD.
The 2017 Nissan Pathfinder ties the Acadia for third place on this list, despite a standard 3.5L V6 that boasts 91 more horsepower than the Acadia's four-cylinder. The entry-level Pathfinder S is the only one Nissan offered with FWD. All-wheel drive was available, along with a 10.7 L/100 km combined estimate.
One of the Pathfinder's best features is a second-row seat designed to tip and slide to ease third-row access, even with a child seat installed.
4. Ford Explorer 2.3L FWD – 10.8 L/100 km combined (12.6 city/8.6 highway)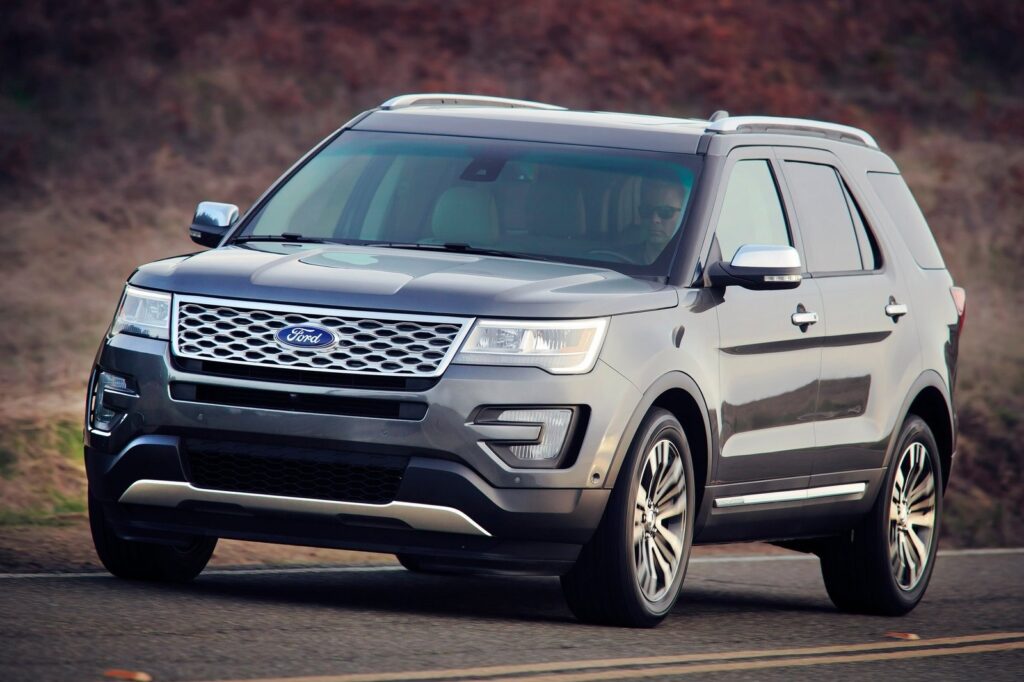 In fourth place is Ford's well-known Explorer which, in 2017, was a year into a new, sleek design that gave this workhorse model a more upscale appearance. The Explorer's standard engine was a 3.5L V6, but the option in base and XLT trims was a 280-hp, 2.3L turbocharged Ecoboost four-cylinder that was only 10 hp shy of the larger V6.
Ford offered four-cylinder Explorers with AWD as an option, with a combined fuel consumption estimate of 11.3 L/100 km; the V6 got AWD standard with a combined rating of 13.0 L/100 km.
The base trim is indeed pretty basic, but the XLT offered an optional tech package that added navigation, an auto-dimming driver's side mirror, a hands-free tailgate, blind-spot monitoring, and second-row seatbelts with built-in airbags.
5. Dodge Durango AWD – 11.3 L/100 km combined (12.7 city/9.6 highway)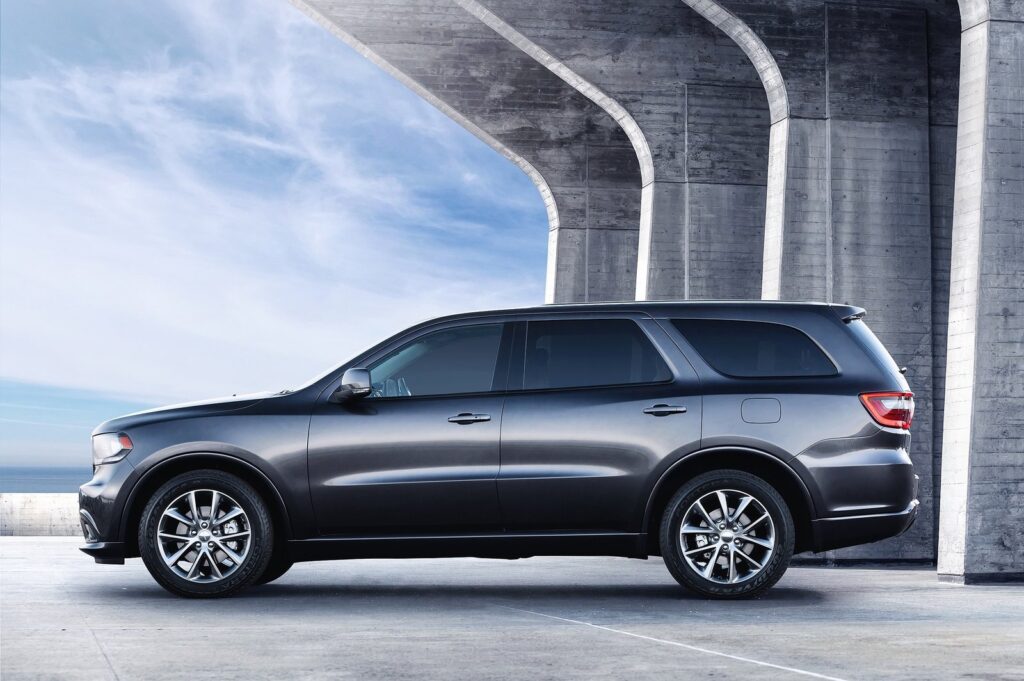 Dodge introduced the Durango in 2011 as a seven-seat SUV based on the same platform as the five-seat Jeep Grand Cherokee. A combined fuel consumption rating of 11.3 L/100 km comes from a 3.6L V6 (295 hp) working with an eight-speed transmission and standard AWD. The Durango V6 is rated to tow 2,800 kg, the most of any vehicle on this list.
The 2017 Dodge Durango was also offered with a 360-hp V8, but the V6 was standard even in the top Citadel Platinum trim, so you don't have to sacrifice fuel economy to get upscale features in a used SUV. Those include an auto-dimming driver's side mirror, 20-inch wheels, a heated steering wheel, rear parking sensors, remote engine start, leather upholstery, and heated front- and second-row seats.
6. Kia Sorento V6 AWD – 11.4 L/100 km combined (13.2 city/9.3 highway)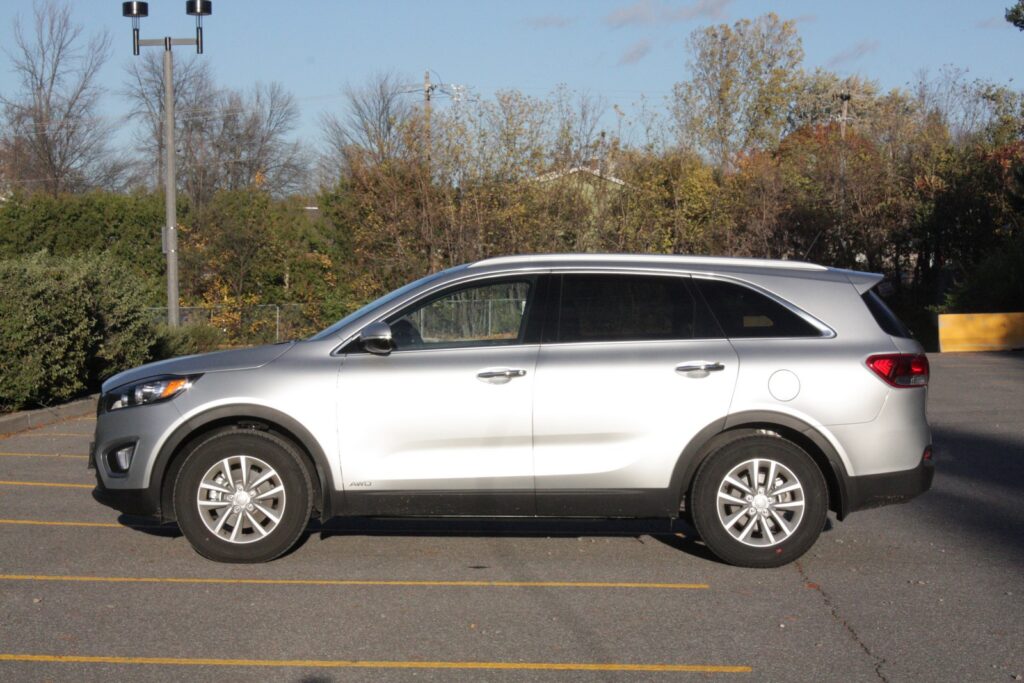 We had intended to make this a list of the five most fuel-efficient three-row SUVs in the mid-size class, but opted for a top six to acknowledge the Kia Sorento's 11.4 L/100 km combined fuel consumption estimate, which nearly ties that of the Dodge Durango.
In 2017, the only way to get a seven-seater Kia Sorento was with the brand's 3.3L V6 engine (290 hp/252 lb-ft), AWD, and a six-speed automatic transmission. The least-expensive package to combine that motor with three rows of seats was the LX-V6, which had manual air conditioning with second-row ventilation, alloy wheels, heated front seats, backup sensors, and driver's seat power lumbar.
You could get better fuel economy in a Sorento in a 185-hp, 2.4L four-cylinder engine – rated at 9.9 L/100 km combined with front-wheel drive – or a 2.0L turbocharged four-cylinder (240 hp) rated for 11.0 L/100 km combined. However, Kia offered neither of those engines with the Sorento's seven-seat interior.