By Chris Chase –  Rating 3.1/5
Some vehicles are designed to appeal to a wide range of shoppers. Others, like the Jeep Gladiator, go after a very specific set of buyers — in this case, Jeep fans who have supposedly been clamoring for a pickup based on the Wrangler off-roader.
This is Jeep's first pickup truck since the 1992 Comanche, which was based on the Cherokee SUV of the time. It's also the first mid-size pickup from Fiat Chrysler Automobiles (FCA), Jeep's current parent company.
Mechanical and structural highlights
To create the Gladiator, Jeep stretched the frame and wheelbase of the Wrangler Unlimited by 78 and 49 centimeters, respectively, which it says helped position the cargo bed for good weight distribution. The Gladiator also gets a rear suspension design not shared with the Wrangler.
My Gladiator tester's power came from a 3.6L V6 and eight-speed automatic transmission original to the Wrangler. Base models come with a six-speed manual transmission, and Jeep says it will also offer a 3.0L turbodiesel V6 as an option later in 2020.
Jeep's stylists worked hard to give the Gladiator a look to match its butch name. This is by far the toughest-looking truck in the mid-size class, with several people calling out its Hummer-esque appearance during my week with it.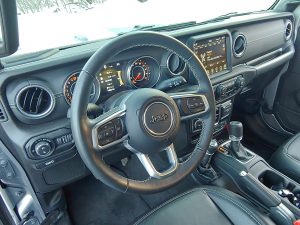 Performance and fuel economy
The Pentastar engine is a strong performer, delivering useful low-end torque and good passing power at highway speeds. The eight-speed automatic is a good match, with smooth shifting and willing responses in highway acceleration.
While the Pentastar is a fairly efficient engine, there's only so much economy to be had in a vehicle whose aerodynamics were apparently engineered in a brick oven. My tester averaged just over 16.0 L/100 km in a week of wintry city driving, against fuel consumption estimates of 13.7/10.7 L/100 km (city/highway) with the 3.6L and automatic transmission.
Ride and handling
A surprisingly compliant ride goes along with this truck's muscular look. I chalked that up to the Gladiator's origins as an off-roader: Vehicles designed for hard going need a suspension with good articulation, which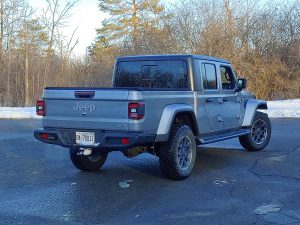 calls for softer springs. So while most trucks deliver a jarring ride when unloaded, the Gladiator is quite comfortable in daily driving.
Still, it's clear the Gladiator wasn't designed with highway cruising in mind. The upright windshield generates plenty of wind noise, and the steering is vague on-centre and requires constant course corrections to stay in the middle of a lane.
If you're in the market for a winter warrior, bear in mind the Gladiator (and Wrangler) are not as capable as many crossovers in slick conditions. That's because Jeep's 4WD system has to be engaged manually and can't be used on clear roads, unlike a crossover's automatic AWD system. If you have to get somewhere in the deep-snow aftermath of a blizzard, however, the Gladiator is as good a vehicle choice as any.
Interior design and comfort
The Gladiator's tall roof offers lots of headroom, but the windshield header is low relative to a driver's seat that doesn't adjust downward as much I would have liked. Rear-seat space is good, and getting in and out is aided by grab handles at all four doors.
The Uconnect infotainment system is a good one, with a responsive touchscreen and one-touch access to climate, audio and navigation functions. Jeep has wisely added hard buttons for the seat and steering wheel heaters on the dash: in past versions of Uconnect, these controls were only found in the touchscreen.
The Gladiator's window switches are located in the centre stack (presumably because the doors are removable), which takes some getting used to.
Pricing and value
Jeep Gladiator pricing starts at $47,425 in Sport S trim, an MSRP close to those for top-end versions of Jeep's mid-size competitors. Meanwhile, my Overland-trimmed test vehicle rang in at $63,290 with options.
Never mind what else you could get in a mid-size truck for that money: That much cash will buy you a nicely equipped full-size pickup. Not the least of those is FCA's own Ram 1500, whose posh Longhorn trim comes in around $68,000 before the inevitable discounts. The Ram 1500 — along with its full-size competitors from Ford, General Motors, Toyota and Nissan — also outshines the smaller Gladiator in terms of payload and towing capacities.
Jeep talks up the Gladiator's off-road chops inherited from the Wrangler, but it's not the only off-road-ready mid-size truck. The Chevrolet Colorado ZR2, GMC Terrain All-Terrain, Toyota Tacoma TRD Pro, Nissan Frontier Pro-4X and Ford Ranger FX4 all boast upgrades suited to rough going.
And as well-executed as the Gladiator's interior is, it neither looks nor feels like one that belongs in a $60,000-plus pickup.
Conclusion
As I said up top, the Gladiator isn't intended to grab the attention of the average mid-size truck shopper. It's a niche product that hopes to capitalize on the Wrangler's popularity as a capable off-roader.
If you're in the market for a pickup that can do double-duty as an extreme off-road superstar, the Gladiator should be one of the first trucks you test-drive. But if you're looking for a workhorse vehicle that can pull its weight in day-to-day duties, save your money and shop elsewhere.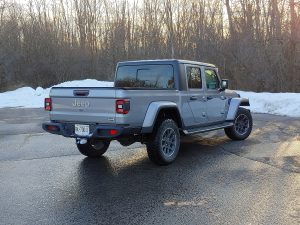 2020 Jeep Gladiator
Vehicle category: Mid-size pickup truck
Engine: 3.6L V6; 285 hp, 260 lb-ft torque
Transmission: 8-speed automatic (optional; 6-speed manual standard)
Notable standard features (Gladiator Sport; MSRP: $47,245): Fog lights, 17-inch wheels, skid plates, folding soft roof, air conditioning, push-button start, tilt-and-telescopic steering, 8-speaker stereo with 5.0-inch touchscreen.
Notable options (As tested: Gladiator Overland; MSRP: As-tested, $63,290; starting MSRP $51,245): Power windows, locks and heated side mirrors, heated steering wheel and heated front seats, side steps, 18-inch wheels, three-piece hardtop, automatic transmission, all-LED exterior lighting, passive keyless entry, 8.4-inch touchscreen with navigation, rear-seat USB ports
Fuel economy, ratings (l/100km, city/highway): 13.7/10.7